Hearts frustrated by Liverpool loss - Ryan McGowan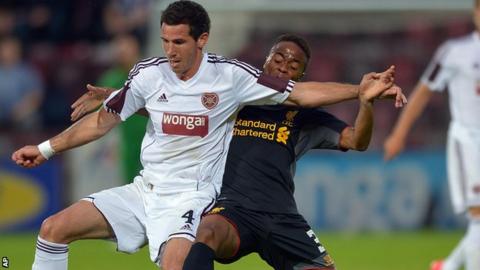 Hearts' Australian defender Ryan McGowan admits he still has to pinch himself as he reflects upon how rapidly his career has taken an upturn.
The unassuming 23-year-old was one of his team's best performers as they came close to claiming a creditable draw with Liverpool.
Add that to his recent international debut, and McGowan has good reason to be happy with his lot.
"It's been a whirlwind couple of weeks," he told BBC Scotland.
"It's a long way I've come from just over 12 months ago when I was out on loan at Partick Thistle.
"It just shows you that if you keep your head down and keep working hard, football's a funny, old game and it can change quite quickly.
"You have to be quite mentally strong because it's quite easy when you're not involved in the squads, like I was, to lose interest and not work as hard, but you never know when you're going to get your chance and you've got to be 100%."
That hard work and mental strength has paid off in spades for McGowan, who was back in his more familiar role of full-back for the Europa League play-off visit of Liverpool, having started the season in an advanced midfield role.
But a pride at having lined up against one of the most famous clubs in Europe was still tinged with thoughts of what might have been after an Andy Webster own goal gave the visitors a first-leg lead.
"We're still coming away from the game a bit disappointed that we didn't get a result from it," he admitted.
"The way we played, I think we deserved to at least maybe score.
"And it's an own goal we've conceded. We'd probably have rathered Charlie Adam putting a 30-yarder in the top corner because it's a goal we could have defended better."
A combination of natural Australian optimism and the common footballing trait of never accepting a tie is over means McGowan retains hope of pulling off a shock at Anfield.
"We're still in the tie and if we get an early goal at Anfield you never know," he went on.
"We'll be confident and if we can get an away goal, that would put pressure on them. We'll just give it a go and if we don't get a good result, then hopefully at least a good performance."
Regardless of their European prospects, the overall display against Liverpool gives McGowan heart for the season ahead.
"I think we set the standard of how we want to play, because if we can do it (against Liverpool) then why can't we do it against Aberdeen on Sunday or Dundee next week," he added.
"I think the Scottish game as a whole has taken a bit if an unfair battering recently and we just have to be a bit more positive.
"Celtic got a good result [against Helsingborg] and although no-one's saying the SPL's the best league in the world, it's not the worst by a long way."