Hearts display against Liverpool offers cheer for Scottish game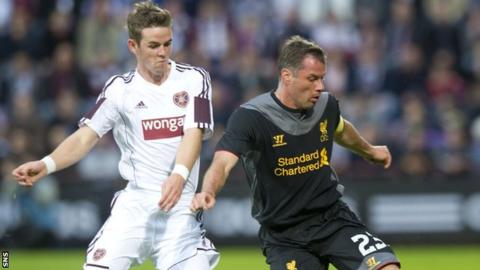 Scottish football will take any shot in the arm it can get right now.
So Hearts' performance - and even the result to an extent - against Liverpool was grounds for optimism regarding the health of the Scottish game.
Granted, the defeat - and the Edinburgh club's likely exit from the Europa League next week - does nothing for the rapidly dwindling coefficient.
It's going to be up to Celtic to try to boost that, but at least Hearts can use that display as a platform to build on.
This was no embarrassment of the sort experienced exactly a year ago when Tottenham scored at will to rapidly extinguish any sort of European feelgood factor.
Make no mistake, Liverpool [fielding a largely second-choice side] were nowhere close in class to the Spurs team that took Hearts apart 5-0 in Edinburgh.
But by the same token, although shorn of a number of last season's top men, Hearts were significantly improved from that particular outing.
They played with a verve and pace, urged on by a raucous crowd that sounded much more than the sum of its parts, which had Liverpool rattled at times.
David Templeton personified the in-your-face, never-let-them-settle attitude adopted by John McGlynn's men.
Credit to the manager for ensuring his players went out and pressed Liverpool from the first whistle.
Although assembled at a cost of tens of millions of pounds, Liverpool's team was largely a young and relatively inexperienced one, and the hostile reception from Hearts fans and players alike had the desired unsettling effect.
Sadly for Hearts, their inability to take the chances they created, particularly in the first half, was always likely to come back to haunt them, and so it proved.
John Sutton was unable to make a similar impact on the match as his striking partner Templeton, and the stark reality for the club is that there was precious little in the way of reinforcements on the bench.
Therein lies the problem for Hearts - though they are not alone - as they attempt to disrupt Celtic's seemingly inevitable march to the Scottish Premier League title.
While their first team is, on its day, likely to be a match for just about anyone domestically, the squad is sparse and McGlynn will have to rely on some of his promising young players and hope they can flourish at senior level.
The broader hope has to be that clubs, putting greater focus on blooding their own young talent, brings about an upturn in Scottish football's fortunes, both domestically and internationally.
In the meantime, these small victories, be they literal or simply moral, provide a short-term resurgence in something resembling pride in the Scottish game.