Ipswich Town Michael Chopra revitalised after US fitness camp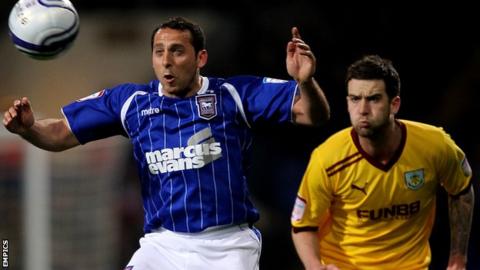 Ipswich striker Michael Chopra believes he is ready to reap the benefits of being sent to a fitness camp in the United States over the summer.
The 28-year-old took part in an intensive daily programme involving hiking and yoga.
"I loved my time there. I'm grateful to the club for sending me there. It's probably the best thing I could have done," Chopra told BBC Radio Suffolk.
He opened his account for the season with the winner at Watford in midweek.
And Chopra has set himself a target to 25 to 30 goals after only managing 14 last season when he also spent time receiving treatment for gambling addiction.
"It was good for me, (being) out of the country so you just focused on one thing and that was getting fit. I think you can see the results now in the games," he said.
"Probably the last time I was this sharp was when I was at Cardiff and we got to the play-off final."
Chopra had to get up at 05:30 every morning while he was in California and then go on a long hike followed by yoga.
"After lunch, it was massage for an hour, then in the swimming pool, doing weights and yoga again and then it was dinner time," he added.
"By the time you finished dinner, you just wanted to go to bed, you were that tired.
"I got the benefits and lost a lot of weight."
Chopra's goal against Watford came in the last minute and he is confident there are plenty more to come.
"That's the hardest thing, as a striker, getting your first goal," he commented.
"I got six goals in seven or eight games (in pre-season), but pre-season doesn't really count for anything - it's when you start playing league and cup games that your battles and challenges come along."