The Irish FA asks public for views on Windsor Park upgrade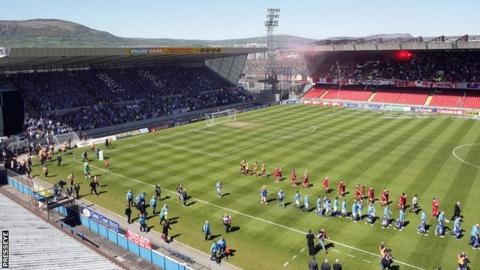 The Irish FA is to ask the public to contribute its views on the £25m upgrade of Windsor Park.
The public consultation process will last for 12 weeks and the plans will be available for viewing at seven locations in the Belfast area.
An IFA statement said it wanted the wider community to "contribute their views before a formal planning application is submitted.
Work is expected to start in the autumn of 2013.
The IFA has already appointed consultants and a design team to present a formal planning application at the end of this year.
With the help of £25.2million of funding from the Department of Culture, Arts and Leisure, the IFA plans to increase the stadium's overall capacity to 18,000.
"The aim (of the publication consultation process) is to bring about meaningful public engagement which contributes to the project design, helps to address any community concerns and to mitigate potentially negative impacts," added the IFA statement.
Construction work is scheduled to begin at Windsor Park in August 2013 with the phased project expected to be completed by the summer of 2015.