Michael Dawson's QPR move in danger of collapse - Mark Hughes
Last updated on .From the section Football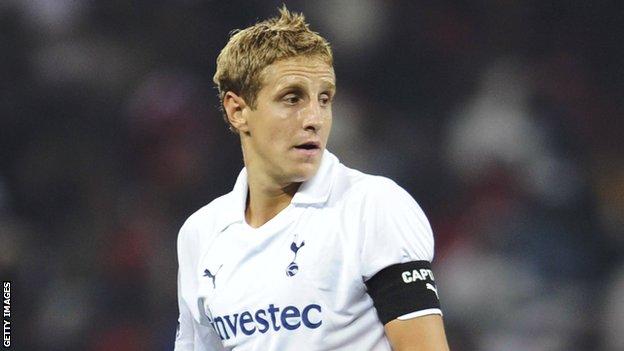 Michael Dawson's move to Queens Park Rangers is in danger of collapse due to "an issue with personal terms", according to manager Mark Hughes.
"At the moment it is not where I'd hoped it would be," Hughes said. "We've still got days left until the window closes, so it might be revisited."
The Welshman refused to elaborate on rumours of a loan bid for former Chelsea centre-back Ricardo Carvalho.
"There is a lot of speculation about players that we are interested in or supposedly interested," the 48-year-old said.
"Some jumped the gun somewhat in terms of that one [in regards to Real Madrid's Carvalho], but we are looking at quality players that can enhance the squad.
"Some are available, some are attainable, some are out of reach. We just have to focus on the ones we feel we can conclude."
QPR, who lost their opening Premier League fixture at home to Swansea City 5-0, have so far signed eight players in the off-season and Hughes stated he planned to continue to add more new faces in the final week of the summer transfer market.
"I think we have probably allowed 20 or so players to leave [since Tony Fernandes completed his takeover of the club]," he said. "We've been able to add maybe 12 or 13 players of, in my view, better quality.
"There is still business to be done. There will, I am sure, be comings and goings but will not be replicated in January and seasons to come.
"This is something we envisage is needed to be done but once we've gone through the process and the squad is settled, then we'll add quality as and when we see fit.
"I'll certainly be comfortable with the squad if we can conclude all the deals we hope to do this window."