Darron Gibson one of the buys of the century - Phil Neville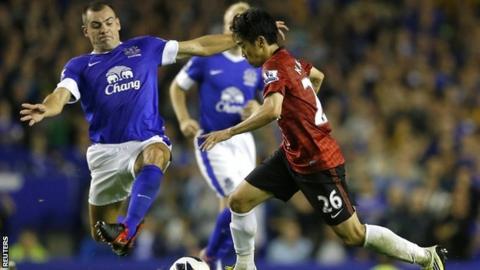 Everton captain Phil Neville says his club grabbed a bargain when they signed Darron Gibson from Manchester United.
Midfielder Gibson, 24, is yet to be on the losing side in the Premier League since arriving at Everton in January.
Monday's 1-0 win over his previous club Manchester United extended Gibson's unbeaten run to 12 league games.
"It has to be one of the snips of the century as it was well under £1million to get someone of his quality and grounding," Neville said.
The Republic of Ireland international has proved his doubters wrong by striking up an effective midfield partnership with Neville, who also made the move along the M62 from Old Trafford to Goodison Park.
"Darron has been a revelation to play with since he arrived," Neville said.
"There is always that doubt when someone comes from a top side like Manchester United and they are not a consistent member of that team, playing every other two to three weeks.
"You wonder why; is it fitness, is it something else? I've been in that situation and the bottom line is in front of Darron he had Michael Carrick and Paul Scholes, two of the best central midfielders in the Premier League - that was the challenge.
"When you are playing in Manchester United reserves there are always question marks against you but since he has come to Everton he has answered a lot of those questions.
"We expect massive things from Darron at this club. He doesn't realise how good he can be."
Gibson gained a reputation as a dangerous striker of the ball from distance during his rare appearances for Manchester United. And Neville is expecting him to add to his solitary goal for Everton.
"We have someone in midfield with energy, quality and more importantly the hunger to play at the highest level and that is driving everyone forward," he added.
"He has quality on the ball and his set-piece delivery is fantastic and to me he looks like someone who could be a five to 10 goals a season man."