Roberto Mancini hopes for further Manchester City signings
Last updated on .From the section Football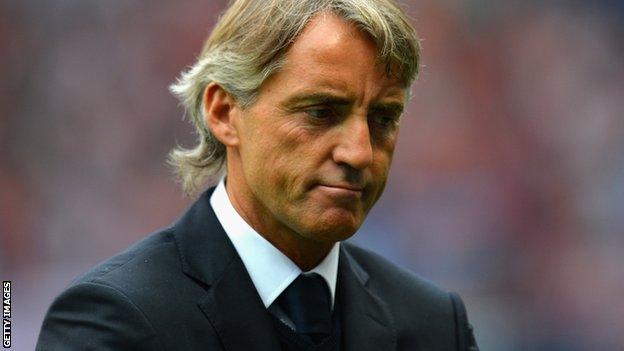 Roberto Mancini thinks the final week of the transfer window will define whether Manchester City can challenge for the Champions League this season.
The Manchester City manager hopes to sign a central midfielder and a central defender before the transfer window shuts next Friday.
"I think we need to improve for the Champions League," he said.
"If we do a good job in the last week we can arrive in the [Champions League] final. That should be our target."
Manchester City failed to progress from the group stages of the Champions League last season and Mancini feels he needs to bring players to the club who are able to deal with the challenges of European football.
"The Premier League you can lose one goal, lose one game or make one mistake and you have time to recover," he said.
"In the Champions League, no. If we want to improve, we need to do this for the Champions League. We need to do other things [in the transfer window]."
Manchester City's only signing of the summer so far is the £15m capture of Jack Rodwell from Everton, but Mancini remains interested in Athletic Bilbao's Javi Martinez, even though City are not willing to match the Spanish club's valuation.
"It is difficult. His cost is too big. It is too high for me," Mancini said. "We have another week and I think we will do something in this week but at the moment it is important to think about [Sunday's Premier League match with] Liverpool."
Mancini also refused to rule out reviving his interest in Roma's Daniele De Rossi, despite the Italian international appearing to dismiss a move earlier this week.
"This is a difficult situation but I don't know what can happen," Mancini said.
"From my experience when the window is still open anything can happen for every player."
City remain keen to move on a number of players, but Mancini says the lack of depth in his squad makes it impossible to allow the likes of Edin Dzeko to move on until new signings are lined up.
Mancini added: "We can't sell our players if we don't bring other players in. It is impossible. We have 19 players at the moment, a few players injured."
Mancini admitted City had found this summer's market extremely difficult to navigate with clubs demanding inflated prices.
"The market was really difficult, more difficult for us," he added.
"Every club that spoke with us started at £30-40m. This was not correct. Every player can have a price."
One player who Mancini does not believe will be joining City this summer is Liverpool's Daniel Agger.
When asked if there was still a chance Agger could sign, Mancini said: "No, no, no. No chance."