West Ham boss Sam Allardyce praises psychologist boost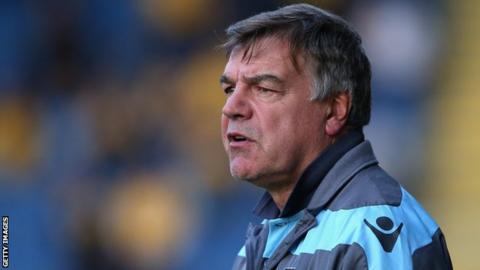 West Ham boss Sam Allardyce says the use of sports psychology at Upton Park has become a crucial part of the club's pre-match preparations.
Allardyce has used a psychologist since he was appointed manager last summer.
He told BBC London 94.9: "It does a huge amount of good work in looking at that area.
"I've always said a player who plays in the Premier League plays there because of his intelligence and his brain, not because of his skill ability."
He continued: "It is very important we all go down the route of setting our targets, our goals and how we can achieve them.
"We set out for the players what they've got to go through in the season. The better they handle it mentally, the better they perform."
And Allardyce believes other football teams could be missing out on possible benefits because they are afraid to embrace the use of a sports psychologist.
"Most of this country generally ignores that type of training because they feel it's for weak people, perhaps," he added.
"It's not. It's about getting everybody correctly mentally focused.
"If you look at other sports in the world; a golfer, a tennis player, a swimmer or certainly a lot of the Olympic teams, they would not dream of not having a psychologist on their team.
"It's about integration and talking to players and staff on a casual basis and talking about how things are going.
"Over the last 10 years at least, using one has given a small advantage to us whatever club I've been at.
"I've been a great believer in it so I will continue to go down that route."
And Allardyce believes that a psychologist can noticeably boost a player's performances on the pitch.
"It's how his brain tells him to use that skill ability.
"That is a very difficulty area. It's easy to make somebody stronger, fitter or improve someone's motor skills.
"It's not as easy to talk about the psychology that is needed in football to keep people focused and mentally strong."