Spanish Euro debutants show Motherwell how it's done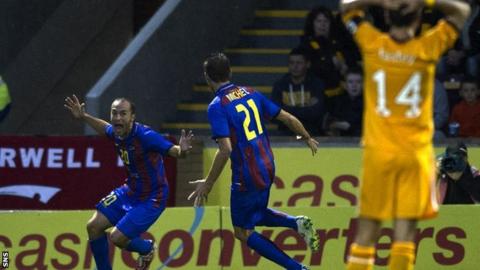 In a packed Fir Park press room, Juan Ignacio Martinez reflected on Levante's chances of progressing to the Europa League group stage after they had beaten Motherwell 2-0.
"Jim", as he is known - or "Jimmy" if ever he coaches in Scotland - further endeared Levante to his hosts when, speaking through an interpreter, he said modesty was part of the ethos of the team from Valencia.
He could not, therefore, assume that next Thursday's return leg in the Estadio Ciutat was a formality.
The first leg felt more like a 1-1 draw, he insisted, not a match in which his team had scored two away goals without reply.
Prior to kick-off, Levante's stocky 36-year-old stalwart Sergio Ballesteros had presented Motherwell skipper Keith Lasley with a bouquet of flowers in memory of the late 'Well captain Phil O'Donnell, who died shortly after collapsing on the Fir Park pitch in 2007.
The Spanish team had learned of the tragedy while researching their play-off opponents.
The match, then, was book-ended with kind deeds and words, and the performance of 'The Frogs' gave much for the 6,286 fans to admire too.
This was Levante's debut in Continental competition, their participation the reward for finishing sixth in La Liga last term. Indeed, they topped the table in October.
There was a horribly familiar feel to this match for the natives, though.
Scottish football fans know the ghoul that haunts such European matches only too well.
It seeps into their souls to produce a terrifying roar at kick-off and spreads through the gut and heart before leaving the body in a primitive cry of "get into them!"
Early half-chances, like when Chris Humphrey chose to stab a shot at goal from an almost impossible angle instead of passing to Michael Higdon, serve only to heighten the lust for a European scalp.
But if visitors to grounds like Fir Park can handle that initial burst and settle down to some passing football, what often sweeps the stands is a dreadful realisation that the opponents are a tidy outfit.
And that is what happened with Motherwell, who lost their impetus and eventually could not impose themselves on Levante, never mind test goalkeeper Keylor Navas.
A goal in each half and a red card for Shaun Hutchinson to prevent a possible third showed the gulf between Scotland's top-tier side and the team that surprised La Liga last season.
Fir Park manager Stuart McCall was typically forthright afterwards: "We were beaten by a far better side," was his assessment.
Of course, the score should be no great surprise. Levante warmed up for the match with a 1-1 league draw against last season's Europa League winners, Atletico Madrid.
St Johnstone (3-1 aggregate loss to Eskisehirspor) and Dundee United (defeated 7-2 over two legs by Dinamo Moscow) exited the Europa League in the previous qualifying rounds and Motherwell entered the competition after losing 5-0 on aggregate to Champions League qualifying opponents Panathinaikos.
Hearts performed creditably against Liverpool in their 1-0 defeat at Tynecastle but will need to produce a near miracle to win at Anfield.
All this means Celtic will likely be Scotland's sole representative in Europe, probably in the Champions League after a fine 2-0 play-off first-leg win at Helsingborgs.
If Celtic can complete the task, , but that cannot disguise Scottish clubs' diminishing Uefa co-efficient.
For how long will the fans enjoy the annual domestic chase for European football and celebrate clinching a place in the early qualifying rounds of the Uefa club tournaments?
It's a bit like winning one's ideal holiday without being able to afford the suitcase and sun cream.
Too often the dream of a 'European campaign', the one that sustains fans through early summer, is crushed by the reality of elimination before August is out.
Thereafter, for supporters it's back to matches against very familiar foes in which they will back their teams to push for silverware and a European place once more.
It's not just the actual football that is a cruel game.