Hibs manager Pat Fenlon keen to strengthen midfield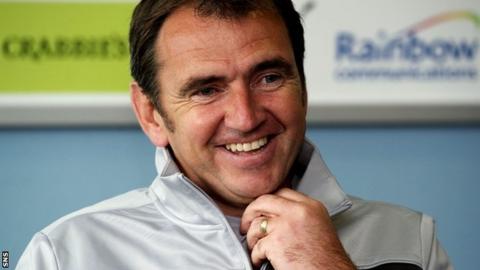 Hibernian manager Pat Fenlon hopes to strengthen his squad before next week's transfer deadline.
Fenlon feels his side are short of players in midfield.
"Last week was a good example, where we didn't have a midfielder on the bench at St Mirren," Fenlon told his club's official website.
"Both Gary [Deegan] and Jorge [Claros] haven't played a lot of football and we had to leave them on where we could have taken one of them off."
As well as Deegan, Hibs have signed goalkeeper Ben Williams, defenders Tim Clancy, James McPake and Alan Maybury, midfielder Paul Cairney and forward Shefki Kuqi this summer.
"I think I'm still driving everybody mad about bringing players in," said Fenlon. "I think the board will be very happy when the window is done and dusted.
"But we're still trying to improve the squad. I still feel there are one or two areas where we need to strengthen.
"In fairness to the club, they are working hard with me to see if we can rectify that.
"We're looking at the midfield and one other area. It depends on where we are at the end of the window as to what we can do."
Fenlon will consider sending young players out on loan if he succeeds in expanding his squad.
"I have to be honest and say I'm more than happy with the squad we've got at the moment," added Fenlon.
"I think the players we've brought in and the ones we've kept have worked really hard in pre-season and in the games. I'm delighted with them.
"Adding to the squad is about helping them and making sure we're strong on numbers so if we do have any injuries we can cope - but also being mindful of the fact we can introduce young players in as well.
"So we need to get that balance right and make sure we're covering all the areas.
"It may be a case that if we can bring in one or two then some of the younger lads will be able to get some experience somewhere out on loan."