Mokoena's happy homecoming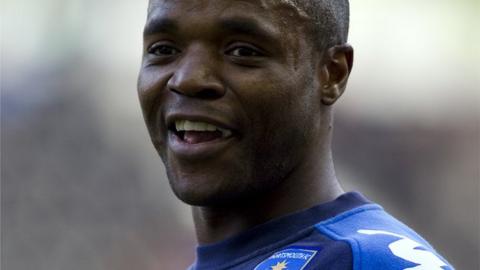 Former Bafana Bafana captain Aaron Mokoena says he has no regrets about returning home to South Africa and hinted that if things goes well he may play again for the national team.
Mokoena joined ambitious Premier Soccer League side Bidvest Wits earlier this month after negotiating a settlement to leave cash-strapped English side Portsmouth.
The former Ajax, Bayer Leverkusen and Blackburn Rovers defender has linked up with ex-Bafana team-mate Mbulelo Mabizela at Wits as the club chases a first league title.
And Mokoena admitted he is delighted to be back in his homeland more than 13 years since he left Jomo Cosmos to play in Europe.
"I had offers from China in January and another one from Qatar but the ambition Wits showed meant I couldn't really resist," the 31-year-old told BBC Sport.
"I don't regret that at all because I would only have wanted to come back to South Africa when I was still able to have an impact on the league. At this age, I can still have a few more years of playing at my best so I'm looking forward to the challenge."
Mokoena added: "I can't compare the league here with England but it's all about adjusting and getting used to playing here again.
"It has improved a lot since I left Cosmos all those years ago and I've been quite impressed with what I've seen.
"Everything is run very professionally and that is something that players really appreciate - it's great to be part of that."
Mokoena became the youngest player to represent Bafana when he made his debut in 1999, and he went on to win a record 107 caps, including captaining his country at the 2010 World Cup on home soil.
South Africa will host the 2013 African Cup of Nations in January under new coach Gordon Igesund and 'Mbazo' has left the door open for a recall, although it is not the most important thing in his mind.
"My priority right now is to help the club achieve their goals - if I can do that then everything else would fall into place," he said.
"I don't want to put myself under pressure to achieve any more with the national team. I've been fortunate enough to be a part of that for a long time and from a young age, although I've never said I have retired internationally. But the priority has to be with my club."
In 2010, Mokoena followed in the footsteps of former President Nelson Mandela by becoming only the second South African in history to be named as Freeman of the City of London in recognition of his charity work.
Now the Aaron Mokoena Foundation is hoping to launch a sports academy and fully fledged professional team in the Vaal district - close to where Mokoena grew up.
"It's going very well. The discussions are going on and hopefully at the end of the month we should know more," he revealed.