Robin van Persie: How the striker will fit in at Manchester United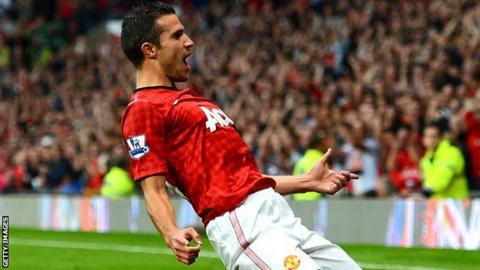 The importance of Robin van Persie's superb goal on his full debut for Manchester United was underlined when Sir Alex Ferguson delivered news about the injury Wayne Rooney suffered during Saturday's 3-2 win over Fulham.
Rooney, who came on as a substitute, received a nasty gash to his thigh after a challenge by Fulham's Hugo Rodellega and faces a month on the sidelines.
So while United fans may have been pondering how Rooney would pair up with Van Persie, the sometimes frantic match at Old Trafford served as a snapshot of how Ferguson may choose to pick his team in the coming weeks.
The Scot declared in his programme notes that his side would not have to change their style to accommodate the former Arsenal forward.
Yet a subtle change in tactics - with Shinji Kagawa behind Van Persie in a 4-2-3-1 formation - suggested a more fluid approach with an added threat through the middle.
"It was a fantastic finish, absolutely brilliant," Ferguson said afterwards about Van Persie's 10th-minute goal which came from his first chance.
"It epitomises the type of goalscoring ability he has.
"It is early days [for Van Persie and Kagawa] and I think they will get a better understanding as time goes on, but I was pleased with both of them."
Having picked Rooney and Danny Welbeck for United's Premier League defeat at Everton last Monday, Ferguson sprung a surprise by leaving both on the bench against Martin Jol's side.
But in a scintillating first half which saw United fall behind before Van Persie struck, Ferguson's side showed an attacking potency which was absent at Goodison Park.
Van Persie scored six of his 30 Premier League goals last season from crosses and he had no trouble sweeping Patrice Evra's centre past Mark Schwarzer on Saturday.
And if he was under any sort of doubt whether that might be an isolated method of scoring, he would have soon realised the significance of Antonio Valencia to the United attack soon after.
The Ecuadorian can dance his way past full-backs too, but his brute strength, his speed and bullet-like deliveries offer a penetrative threat which opposition players find hard to negate.
Twice before Kagawa made it 2-1, Valencia drilled crosses into the middle with Van Persie awaiting a more lofted option, but time will allow the £24m striker to get used to that.
Elsewhere, 29-year-old Van Persie showed his dexterity as a lone striker by dropping into space to receive the ball and the encouraging aspect to this was the likes of Kagawa, in particular, and Tom Cleverley driving into that vacated area.
There was also a moment before half-time where Van Persie showed one of his trademark runs by peeling off the opposition centre-back to receive a lofted pass as he did in scoring volleys for Arsenal against Everton and Liverpool last season.
On those occasions it was Alex Song who found him both times, but here Schwarzer was wise to Cleverley's intentions and intercepted the ball before it reached its target.
Arsenal boss Arsene Wenger said that Manchester United would be getting far more than just Van Persie's goals.
His ability to drift away from defenders and his desire for taking set-pieces, corners included, means that he could surpass his nine assists from last season. Indeed, when Rooney was introduced in place of Kagawa, Van Persie dropped into the deeper attacking role.
Rooney's nasty injury means that their link-up play had little time to gel, and will not be seen for a while yet.
Ominously, Van Persie was the Premier League's top scorer last season in an Arsenal side which prefers to attack down the middle. Now with an added dimension from wide areas, to go with Kagawa's central threat, the route to goal is suddenly a lot more varied.