Dundee United: Defeat is reality check, says Peter Houston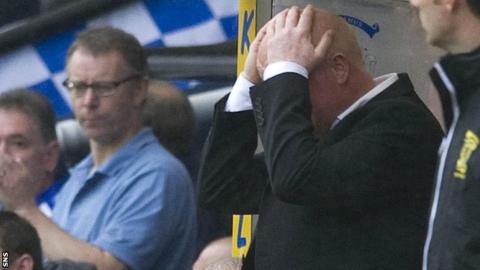 Dundee United manager Peter Houston blamed "schoolboy defending" for the 3-1 defeat by Kilmarnock but described it as a welcome reality check.
United had started the day top of the league table with a game in hand.
"We'll have to work very hard, and harder than we did today, to finish even top six," he said in reply to those tipping United to finish second.
"If we finish top six, with the limit of squad we have, we will be doing very well."
Several of United's first-team players from last season rejected new contracts in favour of better offers elsewhere.
"I've been wanting a couple of players to bring in, but we can't afford it," Houston told BBC Scotland.
"We're a team that's punched above our weight over the last number of seasons.
"But, if we get two or three injuries and two or three suspensions, we are playing kids that nobody's ever heard of."
A mistake shortly after half-time by full-back Barry Douglas allowed Rory McKenzie to open the scoring on his Kilmarnock debut.
Borja's penalty and a Jude Winchester strike had the home side 3-0 up by the 56th minute.
"In 10 minutes of the second half, we gifted the game to Kilmarnock.
"It was schoolboy errors, it was childish defending, and, for the life of me, I don't know where that 10 minutes came from.
"For 10 minutes of the second half, we were a very poor outfit and I think, in the long term, it might be a decent thing for us because I thought there was a lot of complacency and believing the publicity that we are a really good side."
McKenzie capitalised on the mix-up between Douglas and goalkeeper Radoslaw Cierzniak.
"Barry has taken his first touch outside our box and I wouldn't have expected a nine-year-old kid to do what he did," added Houston.
"You can't blame the goalkeeper at all. Barry has dribbled into his own six-yard box where, if you're under pressure, put it out for a corner kick even or swing your leg at it and put it up the park."
Houston thought his side had played good football and dominated possession in the first half.
"In the first-half, the back four actually played well and I gave them a wee bit of praise at half-time whereas I thought our midfield and strikers had not done so well.
"In the second half, all four had a bit of a disaster, so I'll not be praising them again at half-time.
"We're very short of numbers of players. If I look at the back four, I've only got one other defender, Brian McLean, on the bench.
"If two of them don't play well, I've only got one to stick in."