Cardiff City will bounce back , says Tommy Smith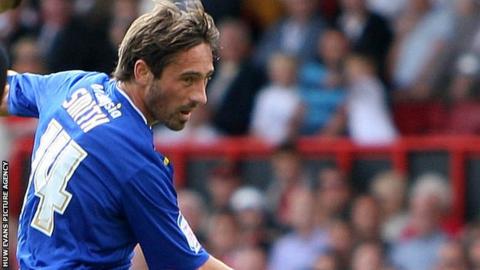 New signing Tommy Smith says Cardiff should not be too downbeat after suffering their first league defeat of the season at Bristol City.
The striker made his debut for Cardiff following his move from Queens Park Rangers.
Cardiff lost 4-2 at Ashton Gate and face Wolves at home next Sunday.
"I'm sure we're going to bounce back and work hard during the week and we've a big game to look forward to on Sunday," Smith said.
"There's a lot of new players so there's a lot to work on. We've got some great players here so it's not all downbeat. I'm sure it will be a minor blip."
Smith, who has signed a two-year deal with Cardiff, was a member of the QPR that won promotion from the Championship in the 2010-11 season.
The 32-year-old is Cardiff's eighth summer recruit and the former Watford player says a strong squad is needed for the Championship campaign ahead.
"We've got a really strong squad here and there seems to be a lot of talent, Yyou need a fairly large squad at this level," Smith added.
"There's so many games you're going to pick up a lot of injuries and you need to have players that can come in.
"Also you need competition to make sure players keep on top of things and I think we've probably got a bigger squad here than we did at QPR for the year we went up.
"There's a lot a similarities between the squad we had at QPR and here. Hopefully if we get the right blend we can reproduce what we did then."
Smith spent two years with QPR but found first-team opportunities limited last season and is pleased to have joined Cardiff.
"I'm at the stage of my career now where I just want to play games," Smith said.
"It's been a frustrating season last year and the opportunity came up where I could come here.
"Obviously I've worked for Malky before at Watford and was keen to get back together with him.
"It's a fantastic club, new stadium and the training ground's lovely. There's so much going for it so it was a fairly easy decision for me. I'm pleased just to get here and to get going."