Hearts' Euro exertions showed at Pittodrie - John McGlynn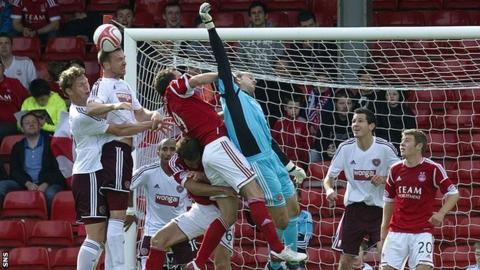 Hearts manager John McGlynn felt his side's "leggy" performance against Aberdeen was mainly due to Thursday's European exertions.
The followed a midweek 1-0 defeat by Liverpool in the Europa League play-off first leg.
"To get a point out of that, we've got to be very pleased," said McGlynn.
"The lads were just tired. There was a lot of mental energy, a lot of nervous energy used on Thursday and we had to work our socks off."
Craig Brown's Aberdeen began to dominate in the run-up to half-time and pinned Hearts back throughout the second period.
But Hearts almost claimed victory in stoppage time when Andy Driver's shot stuck the post.
"It would've been daylight robbery," said McGlynn. "I'm sure Craig would've felt a bit mugged if that had gone in.
"We had a mad five minutes before half-time and it gave Aberdeen a lot of hope for the second half.
"We hardly could get out of our half in the second half. The tiredness kicked in.
"We were unrecognisable. You wouldn't have thought we had played football before, we were just getting the ball and losing it and the pressure came back and came back.
"We were a bit leggy and just couldn't get close to Aberdeen at all. We had to defend exceptionally well because it was attack after attack.
"When you assess the 93 minutes, it was a great point for us."
The return leg of the play-off takes place at Anfield on Thursday evening and McGlynn is hopeful Hearts can overturn their deficit.
"We have to give ourselves a chance in the game," added McGlynn. "We're not without a chance.
"We are looking to go down there and put a spanner in the spokes, try and get a victory of some form if we can do it. It's not impossible.