Shaun Hutchinson second yellow card wrong - Stuart McCall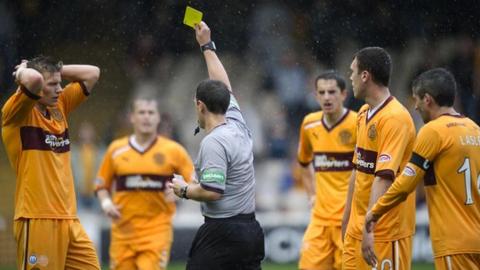 Motherwell boss Stuart McCall questioned the booking which resulted in Shaun Hutchinson's sending off in the 1-1 draw with St Mirren.
The defender committed a foul on Thomas Reilly, who minutes later netted St Mirren's injury-time leveller.
"If you're booking people for tackles like that, I think that's wrong," McCall told BBC Scotland.
"I'm not one for criticising referees. In fairness, he [Euan Norris] spoke to me and that's fine."
McCall had no complaints about Hutchinson's first booking, punishment for not leaving the field quickly enough to receive treatment, but was unhappy with a decision in the run-up to St Mirren's goal.
"Hutchinson's distraught, he's in tears the lad because of the sending off," said McCall of the player who was also sent off against Levante on Thursday.
"He feels guilty for letting us down, which he's not done. He'll learn from his first booking, I've had a go at him. He should just get off the park.
"It was 93 minutes on the clock and the ball went out. Everyone thought it was our throw-in, it went against us. They put the ball in the box and they scored.
"It's hugely disappointing to lose a goal in the 93rd minute.
"It was certainly a deserved point for St Mirren. It was a fair result."
Steven Hetherington and Fraser Kerr made their first starts for Well while another youngster, Adam Cummins also featured.
"We had two or three players playing with injuries," added McCall. "Nicky Law possibly shouldn't have been playing but we had too many young boys as it is.
"Possession-wise, we weren't at our best. We can do better.
"When you aren't you're best, you've got to dig in. When the ball came in, they certainly put their bodies on the line."