Sporting challenge: Joe Jordan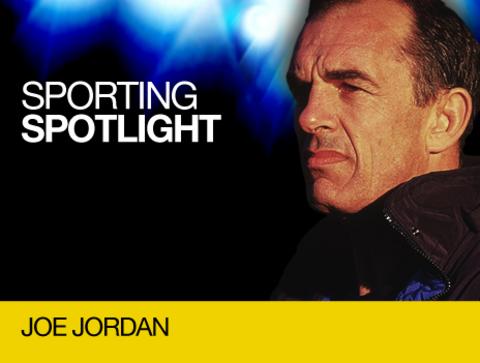 From Greenock Morton to AC Milan, squaring up to Gennaro Gattuso and being linked with the Scotland manager's job, BBC Sport puts Joe Jordan, 60, under the sporting spotlight.
How much are you itching to get back into a coaching job?
I've still got the enthusiasm. It's been a long summer. All we've had is rain really, which doesn't even allow you to do the garden! Thankfully, I went to Wimbledon and that was great. I also got tickets for the swimming at the Olympics. We saw Rebecca Adlington and Michael Phelps.
What about the Scotland job?
For my name to be mentioned, yes, it's nice to be linked with the national job. What that job entails is not easy because of the situation the new man would find himself in. He's halfway through a campaign and he would need snookers. He would need results elsewhere to go for him. He would want to go into the job with a prospect of qualifying.
What do you get up to away from football?
That's a difficult one because when you are in football that takes up a great majority of your time. I don't really have any other hobbies of sorts. It's my family away from football. To switch off, I do a bit of reading. I'm into non-fiction and mostly go for crime.
When you look at results, who do you look out for?
All the clubs I played for: I started out at Greenock Morton and all the way to my last club, which was Bristol City. I like to see how they're doing and read the match reports. Even when I was abroad I'd like to see how my old clubs were doing. I had a few moves so it takes me a wee while.
What about what's happened at Portsmouth?
It's a mystery. I had a great chapter in my career there. It was a terrific place. The ground is an old-fashioned English stadium that generates a great atmosphere. The crowd really were so instrumental in keeping us in the Premier League. To see what's happened now is mystifying. I couldn't even tell you who owns the club there have been that many changes.
When you go back to Italy do you get recognised?
Occasionally. I had a lot more hair when I played there so I'm in disguise by having my hair as it is now and that's not for the want of it. My daughter lives in Milan so I go there when I have the chance. I enjoy the way of life in Italy. It is a fantastic country and I have some great memories and great friends there.
Are you back on speaking terms with Gennaro Gattuso?
We were never not on speaking terms. We had a few words and it is not something I would like to repeat. It's an emotional game. Gattuso did have a moment and, to be honest, I think he was the one at fault. That's water under the bridge as far as I am concerned. As a player, when I had my confrontations, I was never one to hold a grudge. What happened regarding our confrontation in the match between Spurs and AC Milan is finished.
Robin van Persie has moved from Arsenal to Man Utd. You made the switch from Leeds to Man Utd. How difficult is it moving between clubs with a big rivalry?
It does leave its mark. I had a fantastic time at Leeds and went there as an 18-year-old. It was a great club and I learned so much from playing under Don Revie, who was the manager. I couldn't have picked a better club at that stage of my career. As it went on I thought it was time to move on and I went to Old Trafford and had a great time and became a better player. I'm sure RVP is looking to win things and I think he can make the difference.
What was the highlight of your career?
I played for a lot of great clubs, but the highlight was playing for Scotland. I had an international career which allowed me to play under different managers and wearing the blue jersey is something I'll always treasure.
And the low point?
I've had a quite a few! I've had some tough times. But I learnt at Leeds that when the season finishes and you don't achieve what you want, the following year you go again and start again afresh. It makes you stronger.
Which sporting icons would you invite to dinner?
There are a few: when I was younger it would have been Muhammad Ali. I looked at him when he was in his prime and he was fantastic. There are people in my youth like Bjorn Borg and Jackie Stewart as well.
Do you see the point of Twitter?
Not at all. I think it is a dangerous thing. I don't see it benefitting anybody. It's certainly not for me.
Joe Jordan was speaking to BBC Sport's Mandeep Sanghera