Morrell vents frustration at bid to boost Wrexham squad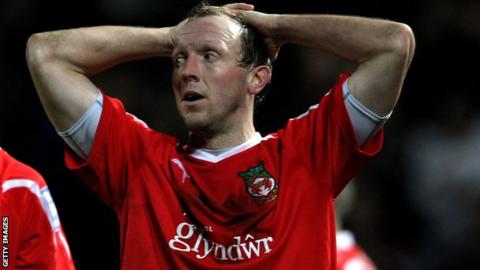 Andy Morrell has revealed his frustration at the difficulty of strengthening his Wrexham squad before the 31 August transfer deadline.
He saw his side register a deserved 1-0 win at Tamworth in the Blue Square Bet Premier on the weekend.
Morrell still wants to boost his squad before transfer deadline day but admits he is having to work within a strict budget.
"It is frustrating really," said player-manager Morrell.
"You get the word that a move is all good to go and then suddenly it is not. Things change that quickly and there is nothing you can do about it.
"I will be striving to try and help our team and squad as much as a I can over the next four or five days to try and strengthen us.
"The people that we are interested in might choose somewhere else. I cannot break the bank and pay people money I haven't got."
Wrexham have also suffered an early injury blow, as defender Mark Creighton is facing the prospect of missing the rest of the season because of a serious knee injury.
"I could bring a player in no problem but then I need cover at centre-half, I need a midfielder and I could do with another striker," Morell said.
"I just cannot do it all with the budget we have left. So I just have to see what I can do."
Morrell has managed a batch of new signings, with goalkeeper Andy Coughlin having signed a one-year deal following his release by Tranmere Rovers.
Former Kidderminster Harriers defender Martin Riley has also signed on a one-year contract, while former Blackpool and Southampton striker Brett Ormerod was the club's first signing for the new campaign.
Former Liverpool and Sunderland defender Stephen Wright has also signed a new two-year contract with Wrexham.