Aston Villa must show character, says Karim El Ahmadi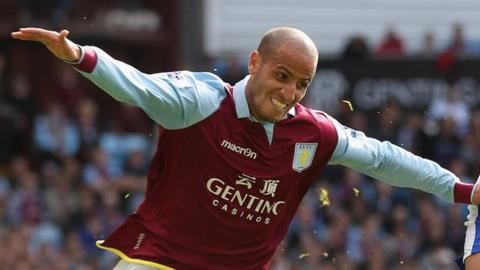 Moroccan Karim El Ahmadi has urged his Aston Villa team-mates to "show some character" after two straight league defeats in a poor start to the season.
After a 1-0 loss to West Ham and a 3-1 defeat by Everton, Villa face Tranmere in the Capital One Cup on Tuesday.
"We have to prepare quick and we have to win," said the midfielder, who joined from Feyenoord in the summer.
"We have to show some character as a team and as players. We are professionals and we have to stand up."
El Ahmadi scored his first goal for Villa on Saturday but admitted it was hardly something he could celebrate, coming with the team already 3-0 down at home to Everton.
"In the second half I was playing more behind the strikers and trying to get near them and the ball was following me," the 27-year-old told the Villa website.
"I had the opportunity to shoot on goal and I think it was a good goal, but I'd rather be winning than scoring a goal."
Everton scored all three of their goals in the first half and Villa's misery was compounded when defender Ciaran Clark was dismissed for fouling Nikica Jelavic.
El Ahmadi believes Villa need to forget about what happened in the first half and find positives from their later resilience.
He said: "I think in the second half we worked hard and tried to do something, especially with 10 men.
"Everton were good but we can also say to ourselves that we weren't sharp at the beginning. At 3-0 the game is more or less over but we still tried to score some goals in the second half.
"We can be disappointed but we have to go forward and think about the next game."