Sierra Leone withdraw ineligible Nigerian from squad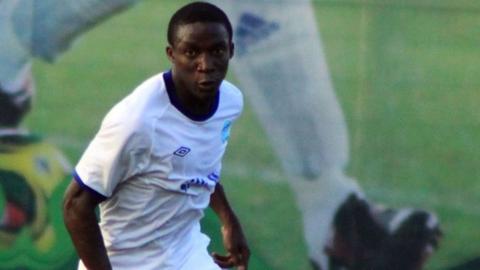 Sierra Leone have withdrawn uncapped Nigerian Victor Igbekoyi Kayode from their squad to face Tunisia in their 2013 Africa Cup of Nations final-round qualifying match on 8 September in Freetown.
The decision came after a story carried by BBC Sport last week that the striker appears not to be eligible to play for Sierra Leone as he does not seem to meet any of Fifa's criteria to qualify him to play for the West African country.
The 25-year-old was initially invited by Leone Stars coach Lars Olof Mattsson after the Azerbaijan-based player expressed an interest to play for Sierra Leone.
The spokesman of the Sierra Leone Football Association Sorie Ibrahim Sesay has announced a fresh list of 19 invited foreign-based players and Kayode is the only player left out from initial list.
"Kayode is not in the new list and the decision to omit his name came as a result of the BBC story. That's all I can say for now," Sesay told BBC Sport.
However, Kayode has claimed that he does qualify to play for Sierra Leone.
"I believe I'm eligible to play for Leone Stars because my mother has told me that my paternal grandfather was born in Sierra Leone," Kayode told BBC Sport.
"I've got links with Sierra Leone and that's why I've decided to play for Leone Stars.
"After I finish my football career I plan to settle in Sierra Leone."
Apart from five uncapped players in the initial list, three other new faces have made their way into the new list.
They are Moldova-based defensive midfielder Abu Tommy, teenage striker George Davies of Manchester City's youth team and Montenegro-based Lamin Suma.