Raheem Sterling can be Liverpool star, says England youth coach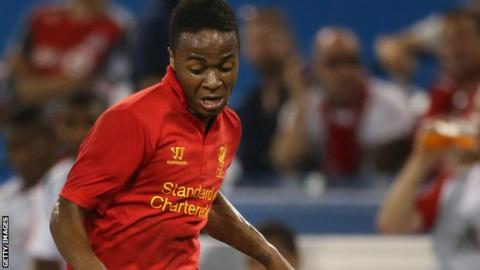 Liverpool teenager Raheem Sterling is being backed to build on the rich promise of his Premier League debut against champions Manchester City.
The 17-year-old was one of Liverpool's outstanding performers in the 2-2 draw at Anfield after being selected ahead of England winger Stewart Downing by manager Brendan Rodgers.
England under-16s head coach Kenny Swain - who also worked with Sterling with the under-17s - is convinced Liverpool can expect big things from him.
Speaking at the Football Association's new National Football Centre at Burton, Swain told BBC Sport: "For Brendan to select Raheem to face Manchester City shows the faith Liverpool must have in him.
"Raheem has a lot of positive qualities that everyone is looking for such as pace, and wonderful balance. He can really trouble defenders."
And Swain, preparing with England's under-17s for a four-team tournament against Italy, Portugal and Turkey that starts against the Italians at Burton Albion's Pirelli Stadium on Wednesday, is convinced Sterling's diminutive stature will not stand in the way of his progress.
He said: "Raheem is not going to be a big lad and that is always a fear in the game these days. Size is always a bit of an issue but I think it is less of one now because of the success of Barcelona in Spain.
"Raheem has this ability that if he is knocked over he jumps straight back up again. He has got some great physical qualities even though he isn't a muscular, beasty lad.
"He also has a confident streak that has always been in his nature. You need confidence if you are playing for a club like Liverpool at the highest level.
"If you walk out in front of 40,000 or 60,000 people for the first time it can be the most stimulating, intoxicating moment of your life and you could see by the look on his face when he came off the pitch at the end of the game against Manchester City that he really enjoyed it."
Swain, a European Cup winner with Aston Villa in 1982, added: "We are so proud when we see kids we have worked with come through, especially in the Premier League, and we have got better at that."
He said he fully expects Liverpool manager Rodgers to monitor Sterling's progress carefully, gauging when to play the youngster and perhaps taking him out of the spotlight at times.
"The challenges you give him have to be calibrated," said Swain. "It may mean he gets a run or it may mean this was a one-off and Brendan felt he needed this type of player for this type of game.
"But he has got pace, ability and physical qualities and that gives him a better chance than most.
"He has got great balance, is very, very direct and has also got a change of pace. He has got pure speed but he has also got acceleration, which is a rare attribute. I really think Liverpool can expect big things from him."