Off The Bawl - 10 December
Last updated on .From the section Football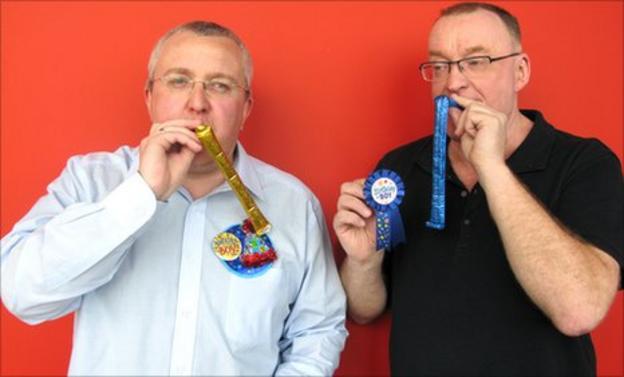 Greeeeeetings!!! Unlike Muirfield and the R&A at St Andrews, there's no place in football for sexism.
So said regular listener Steven Skelding in Rugby who added: "Right, I'm off now to read Fifty Shades Of Andy Gray..."
Our studio guests were legendary No.2 Billy Brown and man of many clubs Big Man Mental Martin Hardie - also discussed what you'd get rid of in your town or city and what the number two means to you.
Our Team of the Week was The Coffee Shop XI and we finished the show (ably hosted by Jane Lewis who came off the bench for Stuart Cosgrove) with a wee tune for Prince Hairy - sorry, Harry.
Here's another selection of the most petty and ill-informed emails on radio...
WHAT WOULD YOU GET RID OF IN YOUR TOWN?
Anon said: "I would get rid of The Quadrant in Coatbridge. I don't see the point of this white elephant. Half the shops in it have never been open and the market is lucky if it has three stalls in it. It has also done away with my favourite pub The Welcome Inn."
Dave in Lanark said: "I'd love to get rid of the dole office in Lanark. It looks like a nightmare building from 1984 with Room 101 inside it. It's the first thing people see when they arrive in Lanark by bus or train and it's absolutely horrible."
Kinnon in Leith said: "I live in Leith but come from Paisley so I've got two nominations. I'd like to see Leigh Griffiths run out of town - the wee nyaff - and I'd like to see St.Mirren Park torn down and rebuilt to resemble a senior football stadium. It's a terrible wee ground and, even though the sale of Love Street helped save my club, I think they could have built a better substitute."
Joe Brodie said: "I'm listening to your show from Perth, Western Australia. The thing I'd like to get rid of here is Australians."
Boabby Barman said: "Being from Motherwell, we are spoilt for choice for crappy buildings, but surely the Civic Centre should be top of the list for demolition? Failing that, can we just flatten Shotts or Wishaw?"
TEAM OF THE WEEK
The Coffee Shop XI
Manager: Craig Levein (no "grounds" for his decision to exclude a proven goalscorer)
Assistant: Billy Brown Sugar
Celebrity Fan: Jimmy Starbucks
1/ Ally Maxwell House
2/ Jamie Ness-cafe
3/ Allan Preston (you can't have coffee without Biscuits)
4/ Any Premiership player (a lot of them need a 'barista' these days...)
5/ Rui Costa
6/ Russell Latte-py
7/ Extra Shota Arveladze
8/ Nuno Cappuchino
9/ Frank Mochavennie
10/ Ian Black
11/ Robbin' Van Persie
AND FINALLY...
The song that played us out?
Dedicated to Prince Harry, we started the ball rolling with You Can Leave Your Hat On, I've Got A Lovely Bunch Of Coconuts or, one suggested by regular listener Major James Hewitt, My Son Calls Another Man Daddy...
John from Skye said: "How about the Danny Kaye classic The King Is In The Altogether?"
Glaikit Gowk said: "I nominate Chas and Dave's Snooker Loopy Nuts Are We."
Richard in Edinburgh said: "What about the theme from Rawhide?
Paul Manson from Tain said: "Surely the most appropriate song for the third in line to the throne is Flash by Queen?"
However, as a wee tribute to the colour of Harry's (ahem) Rubik Cubes, we finshed with the Jerry Lee Lewis classic Great Balls Of Fire...
PS. On the Sunday Supplement, we paid tribute to Neil Armstrong, but Big C in EK was quick to correct us when we claimed that only 12 men had walked on the moon.
He said: "Surely you forgot about Gordon Ramsay?"
To join in the fun on this Saturday's show, call 0500 929500, text 80295 or email offtheball@bbc.co.uk
Listen to the most recent Off the Ball programmes.
Download the latest Off the Ball podcast.