David Jones eyes regular Wigan spot after win at Forest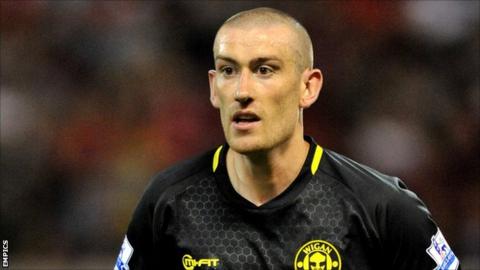 David Jones hopes to become a regular starter at Wigan after playing his first competitive game in six months.
Jones is hopeful that his performance in the will put pressure on regular midfield duo James McCarthy and James McArthur.
"Towards the end of last season, they had a very good partnership," he told BBC Radio Manchester.
"The manager wants competition for places and hopefully a few of us put those thoughts in his mind."
Jones added: "I haven't played a competitive game this season, or for a while last season because I've struggled with injury.
"It was really good to come in and I'm satisfied, especially with the result."
Former Manchester United midfielder Jones joined Wigan on a free transfer from Wolves in the summer of 2011 but was restricted to just 17 appearances last season.
But he is confident the best is yet to come from him.
"I'm a bit of a slow developer and I think I'll get stronger in the next few years," said Jones. "I'm still learning and, with the different styles of football I've been used to at Manchester United, Derby, Wolves and now Wigan, I've had a good footballing education so far.
"To come and play for a Spanish manager (Roberto Martinez) with the philosophies that he holds is very exciting for me."
The Latics have followed up an opening-day defeat at home to Chelsea with back-to-back away wins at Southampton and Forest, scoring six goals in the process.
And Jones believes Wigan's attacking style of football has won many friends in recent months.
"It was one of the reasons, if not the reason, why I wanted to come to the club," said the 27-year-old. "When we get going and we pass it like we can do, there aren't many teams that can do that.
"If we're on our game and impose ourselves on other teams, there's not many that can live with us.
"We're starting to get a bit of respect now. At the end of last season, we went on a good run of form and played some really good football against the top clubs in the Premier League."