Neil Lennon celebrates best Celtic achievement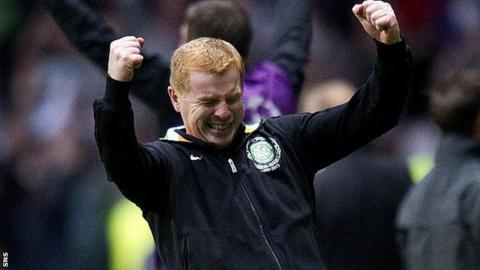 Manager Neil Lennon described steering Celtic into the Champions League group stage for the first time in four years as the "best night" of his career.
"It's not often I pat myself on the back but I'm going to," he joked after completing a convincing 4-0 aggregate win over Helsingborgs.
"The pressure going into the game was huge; I've never experienced anything like it as a player."
A delighted Lennon added that he would make signings this week.
"We will bring in players," he said, without revealing any names.
"We have a couple lined up and hopefully we'll get the medicals done before Friday."
Leading 2-0 from the first leg in Sweden, Celtic made sure of their progress with goals from Gary Hooper and Victor Wanyama in front of a raucous Glasgow crowd.
"I've been to hell and back these last six or seven week trying to get things right," said a relieved Lennon.
"It's a great night for me, for the club and for the players. It's a minor miracle, the squad is so thin but we have a good core of players and I am very proud of them."
Looking ahead to Thursday's draw for the group phase in Monaco, Lennon added: "It's a great privilege to manage this club and to manage in Champions League is beyond my wildest dreams.
"It doesn't matter who we get and I've no idea how we'll do.
"But we've got the infrastructure to be a Champions League club and the players have done their talking on the pitch.
"They have worked so hard to get to this point.
"It's unfair on British sides to play these games so early [in the season] but we've overcome that.
"The expectation level for this game was huge but for the group stage it's not so big.
"From that point of view, the pressure is off and we can go on and develop the team against some of the best teams in the world."
Celtic will be among the four seeds for the draw and Lennon would not mind being put in the same group as Manchester United, Manchester City, Chelsea or Arsenal.
"That would be great," he said. "That gets the juices flowing, you know, the Battle of Britain.
"I have some great recollections of Liverpool and Manchester United over the time and it always creates an extra bit of excitement.
"If we can avoid Barcelona and Real Madrid, we might have half a chance. But it doesn't matter."
Celtic had seen off HJK Helsinki before disposing of Helsingborgs and won each leg, keeping three clean sheets from four matches.
Prior to Hooper's close-range finish, the second leg against the Swedes had been evenly matched but Celtic were seldom in trouble.
"We didn't start the way I'd have liked," Lennon said. "But nerves played a part; these games are so tense.
"There is a fear factor and I lived with that. I am thinking of the ramifications if we don't go through, what it would mean for me personally, how I would get through it and how I would get over it.
"That was part of the build-up. Everyone had us in the Champions League but in the back of your mind there is always that worry, that fear.
"We have overcome that and dealt with the two qualifiers very well."