Celtic's Champions League success earns SPL a cash boost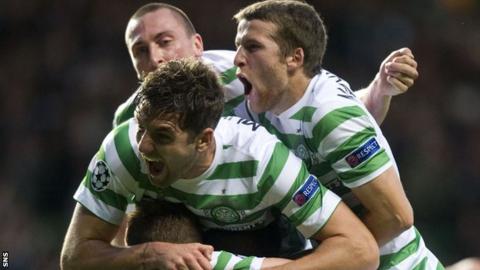 Celtic's qualification to the group stages of the Champions League will provide a £1.5m boost to Scottish Premier League clubs.
The will increase Uefa's 'solidarity fund' paid to the SPL by £1m.
Scottish clubs will also receive a co-efficient ranking boost as a result of the Glasgow side's success.
SPL chief executive Neil Doncaster said the funds will offset "the financial damage caused by the loss of Rangers".
Scottish clubs receive co-efficient ranking points based on success in matches against other European clubs, which helps determine individual club seedings in the Europa League and Champions League.
Uefa also distributes cash payments to each participating country, depending on various stages reached by clubs in the European top-flight leagues.
In a statement, Doncaster said: "Following Celtic's qualification to the group stages of the Uefa Champions League, the Scottish Premier League announced the resultant positive impact for the SPL as a whole with the league's European co-efficient and Uefa solidarity funding both set to receive a boost.
"The co-efficient rankings are based on a points system calculated against the results of teams from each country. Celtic and the SPL will be awarded four bonus points for participation in the group stages, with additional points being awarded for a group stage win or draw.
"Moreover, the amount of Uefa solidarity funding that is shared equally by the other 11 SPL clubs not competing in the Champions League will this season increase from £500,000 to around £1,500,000, partly offsetting the financial damage caused to the league by the loss of Rangers from the SPL."
Doncaster also congratulated Celtic on their win, which guarantees Neil Lennon's side, who will discover their three group stage opponents when the draw is made on Thursday.
"Their success is a welcome boost for the entire game in Scotland - both financially and reputationally," added Doncaster.
"Ahead of the start of Scotland's World Cup qualifying campaign next week, last evening is a timely reminder that Scottish football still has a rightful place at European football's top table."