Bristol Rovers fail in Wycombe Wanderers abandonment appeal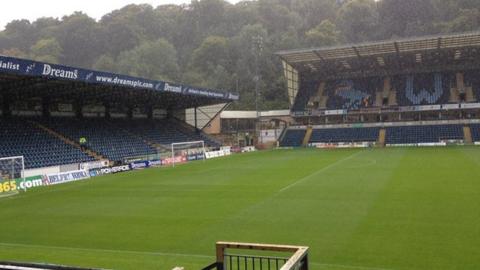 Bristol Rovers are to replay their abandoned League Two game with Wycombe in full following an unsuccessful appeal to the Football League.
Rovers were winning 3-1 when the game was suspended because of heavy rain, and it was eventually called off on 66 minutes after lightning hit the Dreams Stand at Adams Park.
The visitors questioned the decision and lodged an official complaint.
But the Football League has said "appropriate action" was taken.
No new date has yet been set for the replayed game.
"I am bitterly disappointed with the decision, because I feel it gives Wycombe a clear advantage," Rovers chairman Nick Higgs told the BBC Radio Bristol.
"I felt the option we put forward to continue the game, with the score as it was, was the fair thing to do.
"We had to question it. There were a number of inconsistencies in the reports we received, which we were unhappy with.
"If it was called off for health and safety reasons then why wasn't the stadium evacuated immediately? Why were the players allowed to warm down on the pitch?
"These are the questions we've asked and I'm not convinced we've had a full answer to them.
"We've expressed our dissatisfaction with the result and there's nothing more we can do. We must use this to spur us on now."
The Football League released a statement saying: "Having considered the relevant submissions from all parties, the Football League is satisfied that, in very difficult circumstances, the match referee took the appropriate action by initially suspending and then abandoning the match following advice from the safety officer.
"The League fully supports the referee in his actions and, in line with its regulations, requires that the match be replayed in full and at the earliest reasonable opportunity."