Aldershot Town striker Guy Madjo hopes for opportunity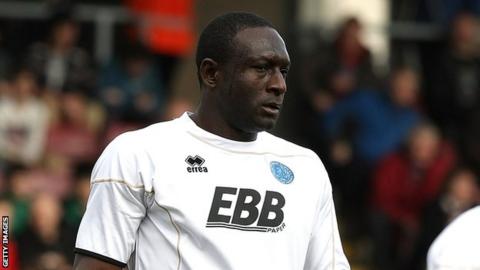 Guy Madjo has admitted he is frustrated by the lack of first team opportunities at Aldershot this season.
Manager Dean Holdsworth has named the striker among his substitutes in all five games this season, but Madjo has only come off the bench twice.
The 28-year-old told BBC Surrey: "Every player just wants to play, express yourself and show what you can do.
"I just have to deal with it. I have to respect the manager's choice. He has a reason why he is doing things."
He added: "Everyone has their own point of view in life. I have my own.
"He [Holdsworth] has his way of doing things and has to make decisions.
"At the end of the day he has a job to do and as a player, you have a job to do."
Madjo joined the Shots in January from Stevenage and went on to score eight goals in 20 outings last season.
The Cameroonian believes he could repeat that goal scoring form if he is given more playing time.
"It's a matter of confidence," he continued.
"Given a moment on the pitch, you can build on it minute by minute.
"You can't build your confidence by staying in the stand or on the bench."