Mali's Diakite absent from QPR due to personal issues
Last updated on .From the section Football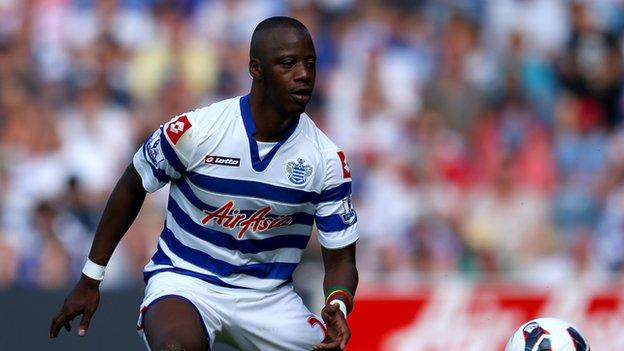 Mali international midfielder Samba Diakite has been given some time off by his club Queens Park Rangers so that he can address some personal issues.
The 23-year-old is not included in the squad for Saturday's Premier League match against Manchester City.
Diakite has returned to France and Rangers boss Mark Hughes told the club website: "Samba is unfortunately having difficulties with some personal issues.
"We are supporting him in every way that we can."
Diakite joined QPR from Nancy on a permanent deal in June, having been on loan at the west London club since January.
He played in the first two league games of this season - the 5-0 defeat by Swansea and the 1-1 draw with Norwich - but missed Tuesday's 3-0 win over Walsall in the Capital One Cup.
Hughes added: "We hope he can overcome these issues very quickly and get back to being the outstanding player that he undoubtedly is.
"In the meantime, we are giving him the time and help that he needs."
Diakite could also be a doubt for Mali's 2013 African Cup of Nations final-round qualifier at home to Botswana on 8 September.
His absence would be a big blow for the Eagles, given his key performances in the last year's Nations Cup that helped them finish third at the tournament - their best achievement in four decades.