Rangers await clearance to confirm Francesco Stella signing
Last updated on .From the section Football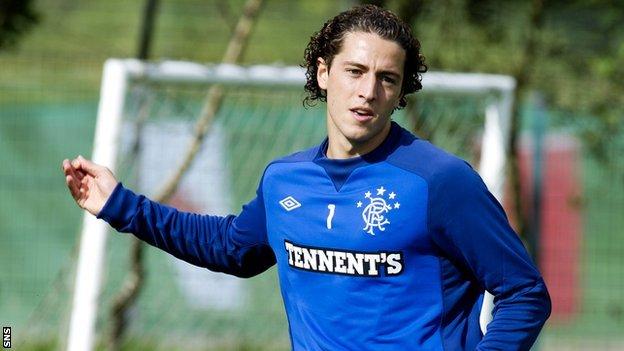 Rangers are awaiting international clearance to confirm the signing of Australian forward Francesco Stella.
The 21-year-old had been on trial with the Ibrox club, having previously had a three-year spell with Siena.
David Templeton joined Rangers from Hearts on transfer deadline day and Stella's signing, if finalised, would be their last until next September.
The club's year-long transfer ban began on Saturday, with the application to register Stella lodged on Friday.
The company that previously ran Rangers entered administration in February with mounting liabilities and was found guilty of bringing the game into disrepute two months later.
Rangers appealed unsuccessfully against the punishment of a year-long ban and then challenged the verdict at the Court of Session, who ruled that the SFA had acted beyond its powers in imposing the embargo.
However, after the Rangers Football Club plc could not be saved from liquidation and were relaunched by a new company, the Ibrox club accepted the embargo as a condition of being granted SFA membership.