Hearts say David Templeton was 'desperate to leave'
Last updated on .From the section Football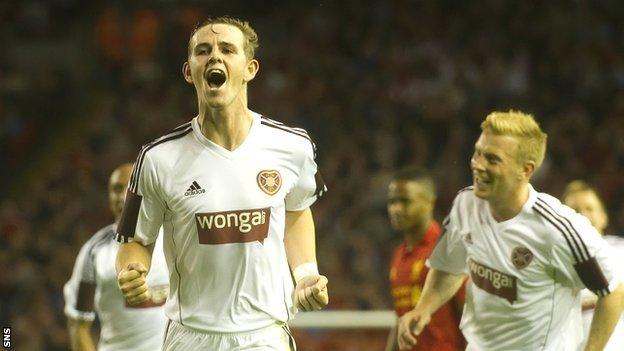 Hearts say the decision to sell David Templeton to Rangers was correct as it was the "best available offer" for a player "desperate to leave".
A club statement said: "We did not want to sell him but there was no reason to keep him as his mind and heart was not with Hearts.
"In January he could sign a pre-contract and walk for free in summer."
The winger scored on his final appearance for Hearts, the 1-1 draw against Liverpool in Anfield.
Templeton's four-year deal with Rangers, who play in the Scottish Third Division, was completed after late talks at the Glasgow club's Murray Park training facility.
The 23-year-old's registration was completed just before the transfer window closed on Friday night, ending his five-and-a-half year period with Hearts.
Rangers now enter a one-year transfer ban, a punishment issued to the club by the Scottish Football Association's judicial panel for bringing the game into disrepute during Craig Whyte's ill-fated takeover and stewardship.
Hearts sought to explain to disgruntled fans how they came to sell one of their most exciting players to a team playing three divisions below.
The statement said: "We need to admit we are not completely satisfied with the offer but it was the best available offer and other clubs were just waiting to get Templeton for free in January.
"We had lengthy negotiations and Rangers improved their offer several times until finally we agreed terms. Templeton was desperate to leave Hearts for any club offering big money and his contract was running out in May 2013."
Hearts say Rangers' transfer ban meant they were prepared to offer cash immediately for the player, and that they were the only club willing to do so, as opposed to signing him for free in January.
The Tynecastle club added: "The club put a huge amount of effort into keeping Templeton at Tynecastle, spending many months trying to find an agreement.
"Twelve months of discussions and negotiations since the start of 2011-12 season did not help. He has rejected every one of our offers completely, regardless of terms.
"After last January he switched off completely after the club rejected a laughable offer from a minor Championship club.
"[Former manager] Paulo Sergio had many issues with the player's attitude and did not include him for the Scottish Cup final squad for the lack of focus and determination.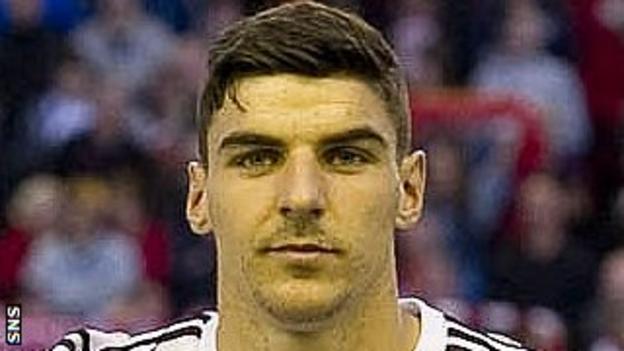 "We believe the decision of the club was right in the circumstance and has brought money to the club where Templeton was a big risk to keep in both football and financial terms."
Rangers also held talks with Hearts' Australian international Ryan McGowan, but he opted to remain at the Edinburgh club.
Similarly, the Ibrox club could not persuade Callum Paterson to make the move.
"We praise his decision," a Hearts spokesperson said of McGowan.
"We hope he will show his commitment by putting pen to paper to sign a new deal with the club in the next couple of days in evidence of his declarations.
"Callum Paterson is the example of commitment and a true Jambo. Despite active interest from Rangers, the boy immediately committed to a new deal the club offered him in an effort to keep best young talent at the club."