Hearts manager John McGlynn won't blame kids for Dundee defeat
Last updated on .From the section Football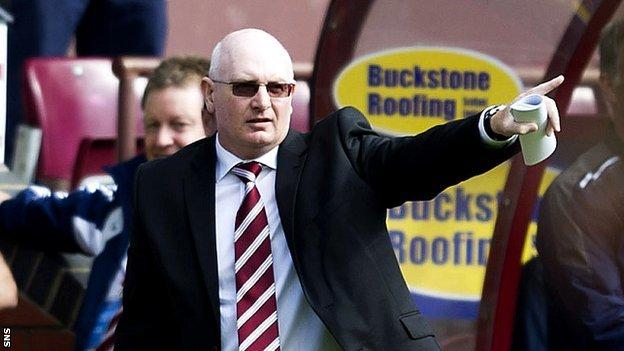 Hearts manager John McGlynn was left baffled by a defensive lapse which saw his side lose at home to league newcomers Dundee.
The Dark Blues scored the only goal of the game in the second minute, courtesy of Ryan Conroy's penalty.
However, McGlynn refused to blame his side's youth for going behind so early.
"We gave ourselves a difficult situation. We put ourselves on the back foot by losing a penalty in ther first two minutes," he said.
"For two games against Liverpool your concentration levels are massive, and within two minutes against Dundee you're a goal down. There's no logic in that.
"I don't think we could just say, 'we've got kids in the team' so that's why it was.
"You've got a team that's not scored a goal yet, and then you give them a lifeline like that straight away."
And the Hearts boss put the defeat down to a lack of creativity in attacking areas.
"It was just that little bit of craft in the final third was that was missing.
"The second half was total dominance, we just couldn't get a goal.
"It was just one of those days it didn't quite go for us. We tried everything we possibly could, we just couldn't get the ball in the back of the net.
"I'm sure if we got one goal we would have got a second, we were so far on top."
McGlynn was coy on any move to bring free agent Rudi Skacel back to Hearts, but hinted the Czech forward's wage demands could be a stumbling block.
"Rudi was a big miss because he scored 18 goals last season, and how do you replace 18 goals? It's very, very difficult," he added.
"But, I don't know, why has Rudi not got a club? Does anyone ask themselves that? Is he pricing himself out of the market?
"I don't know, I wouldn't be involved in negotiations at that level, but why is Rudi not playing anywhere? That has to be the question first and foremost.
"Why is nobody else taking a chance on Rudi? It's a strange one."