Brendan Rodgers regrets Andy Carroll loan exit from Liverpool

By Phil McNulty
Chief football writer, BBC Sport
Last updated on .From the section Football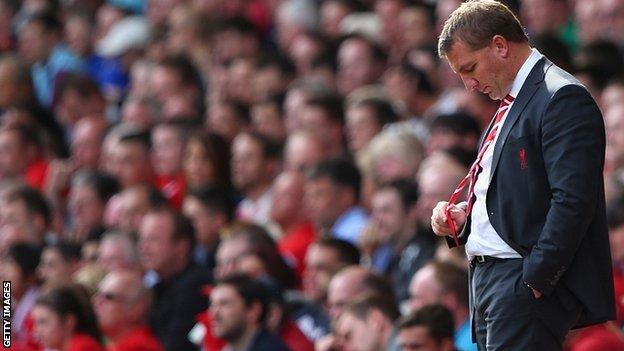 Liverpool manager Brendan Rodgers has admitted he would not have allowed Andy Carroll to join West Ham had he known he would be unable to strengthen his squad.
The Reds boss, who has the option of recalling Carroll from his season long-loan in January, insists he was not misled by the club's American owners Fenway Sports Group over transfers.
But neither of the incoming deals materialised, with FSG understood to be reluctant to meet a £6m asking price for 29-year-old Dempsey.
The United States international moved to Tottenham instead, leaving Rodgers short of resources but denying there were already boardroom tensions with the Americans after the 2-0 home defeat by Arsenal left them without a Premier League win.
Rodgers revealed he had been "very confident" of signing a replacement for Carroll. When asked if he would have sanctioned the move otherwise, he said: "No."
Liverpool's manager confirmed he has spoken to the club's owners since the transfer window closed and will hold further talks this week, saying: "There are just one or two operational things we need to iron out."
But Rodgers, who has refused to completely dismiss the prospect of a move for former Liverpool striker Michael Owen, is conscious of the need to bolster his attacking options.
"Any player that I believe can improve the squad I will look at," Rodgers said. "We have got a very, very small squad with some very young players in it. So I can't say no."
Rodgers added: "We all know we needed reinforcements and the players needed help but it's gone now and I can't do anything about it.
"There is no point in me sitting here crying about it wishing we had or we hadn't. There is no doubt the finances here had to be changed. That is the reality.
"We have lost nine players and brought in three, so, from a business side, the club has done well. What we need to do well for the future now is look after the football business and help the players here."
Asked whether the reality was different from what he was told when he was appointed, he said: "I have to be honest, I wouldn't change it for the world. I'm very proud and privileged to lead this club. I always knew it was going to be difficult.
"My fight is to keep the supporters proud and keep the great name of Liverpool going forward. I have made it my life to do that.
"The owners have been very up front, honest and open with me. There are one or two things to iron out but they haven't misled me.
"I have spoken to the people back in America and had a couple of brief conversations. We will reflect on it again next week on the way forward and hopefully go forward in the January window."
Former Liverpool striker Owen is a free agent while Didier Drogba may also become available as uncertainty surrounds his future at Chinese club Shanghai Shenhua.