Sheffield United's Cresswell happy with new contract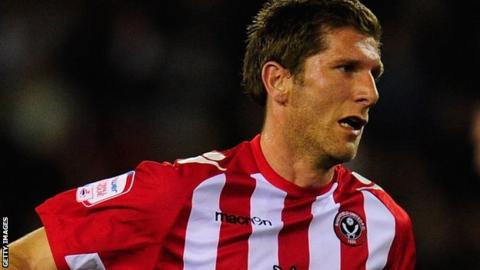 Sheffield United striker Richard Cresswell has thanked the club for re-negotiating his deal.
Cresswell, 34, made his first appearance of the season on Saturday after agreeing a new player-coach contract last week having been unable to play because of financial issues.
"We came to a compromise and I took a pay cut to stay here," he told BBC Radio Sheffield.
"I thank Danny Wilson for giving me a chance to get into coaching."
Creswell added: "I'm coming up to 35 now and I do look after myself and I want to play as many games as possible, but this is an opportunity to further my career and I am thankful to the manager and the board for that.
"I love this club and I will always give my all when called upon to play."
The veteran striker came off the bench to score the fourth as the Blades recorded a 5-3 win over Bournemouth at Bramall Lane on Saturday.
Cresswell replaced young Manchester United striker John Cofie, who is on a season-long loan with the club, and he praised the teenager's contribution so far this season.
"His goal on Saturday was an absolute screamer," he continued.
"He's a talented lad and I hope that I can use my experience to help him improve even more."