Bassong reveals joke with Villas-Boas over Spurs exit
Last updated on .From the section Football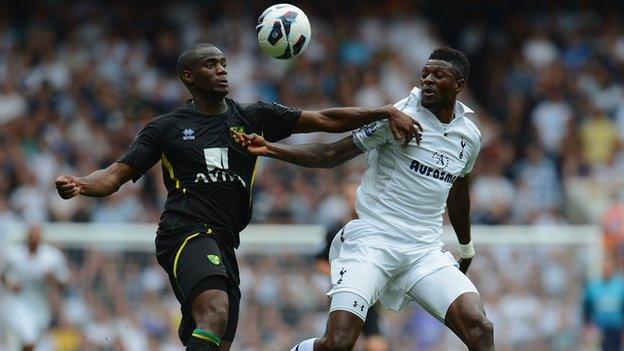 Sebastien Bassong has revealed his cheeky parting shot to Andre Villas-Boas after the Tottenham boss sold the Cameroon defender to Norwich.
The 26-year-old was in great form as his new club drew 1-1 at the home of his old club in the league on Saturday.
He said: "I told Villas-Boas 'you'll buy me back one day'. We have a good relationship so I can joke with him."
Bassong moved to Spurs in 2009, but after playing few games in the last two seasons he moved to Norwich in August.
After he gave an excellent performance on Saturday at White Hart Lane, Bassong paid tribute to his former club.
"I'm really delighted about my return to White Hart Lane. It was a bit emotional for me," he said.
"I had a good relationship with the fans here so it was nice of them to give me a good reception. I'm really happy for them. I owe them a lot and I want to thank them.
"I played a full season in my first year here, and then I was struggling to play.
"But that's in my past so I'm looking forward and I'm happy with how it's going at Norwich."
Bassong admitted it will take him a while for him to fully acclimatise to life at his new club.
"No, I haven't settled in yet. I'm living in a hotel. I'm looking for a house, but it's hard," Bassong added.
"My car broke down two days ago, I was in the middle of nowhere as well. Welcome to Norwich!"