Crewe Alexandra manager Steve Davis praises club's academy
Last updated on .From the section Football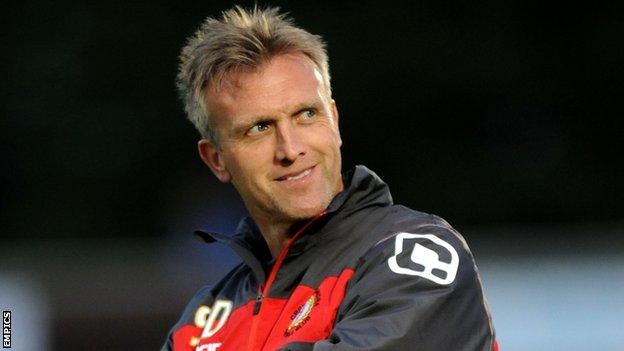 Crewe Alexandra boss Steve Davis has praised the club's academy following the departure of two graduates to the Premier League this summer.
Nick Powell and Ashley Westwood both left for top-flight football during the transfer window and Davis is pleased with the talent from the youth ranks.
Davis told BBC Radio Stoke: "All credit to [the academy]. In three months we've lost two to Premier League teams.
"It's a fantastic achievement for a club promoted to League One."
Crewe have developed a strong reputation for producing talented young players, and the list of those which who come through the ranks at the Alexandra Stadium includes David Platt, Neil Lennon and Robbie Savage.
Because of this, a high number of scouts attend Crewe matches and Saturday's win over Coventry was no exception, with more than 30 clubs represented.
But Davis, who guided Crewe to promotion to League One last season, hopes they do not end up in a similar position, losing more of their best players in the next transfer window.
"It's a good thing but it's a worrying thing. Come January we might be in a similar situation as with Nick and Ashley," said the 47-year-old.
"It's not unfortunate. It's just you lose your best players and you've planned all pre-season for your best players to be around the club."
And despite losing some of his first-team players, Davis feels his current crop can step into the gap left by Powell and Westwood.
"The opportunity is there for all of our players all the time, as long as they're improving," Davis said.
"I said to them you've got to be challenging for honours and teams will start looking for you.
"I would like to have had Nick and Ashley in my team this year as I think we'd be looking at the upper echelons of League One.
"But all the players will now rise to the occasion and it gives others an opportunity to replicate what they've done."