Luton Town must keep improving says boss Paul Buckle
Last updated on .From the section Football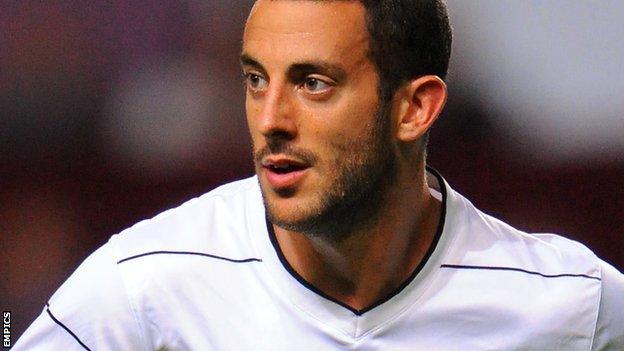 Every player at Luton Town must be determined to keep improving for the club to have a successful season, according to manager Paul Buckle.
Successive wins have given the Hatters momentum as they prepare for the visit of local rivals Cambridge United.
Now Buckle wants every player to play a part in keeping the run going.
He told BBC Three Counties: "Everyone is pulling together, there's a great atmosphere at the moment and we want that to continue."
Buckle cited the example of forward Stuart Fleetwood, who followed his two goals in the 3-1 win at Ebbsfleet with a late strike in the 4-1 win over Macclesfield.
"It's about Stuart getting back to his very best. There's a lot of talk about [new signing] Jon Shaw and rightly so with his formidable goal-scoring record, but Fleetwood's record is second to none and it's our job not only to bring in new players to improve the squad but to improve players who are already here," he added.
"I'm looking for big improvements from Stuart; people like Adam Watkins, Janos Kovacs, Mark Tyler and they're not disappointing, they're all working hard at their game and Fleetwood is doing what he does best, putting the ball in the back of the net."
Buckle successfully switched to a 3-5-2 system against Macclesfield, but warned that did not mean he would do the same against Cambridge.
"I felt we needed to freshen things up after a draw and a defeat at home, I did it with the system and it worked, the players bought into it and we caused them problems. But it's anyone's guess what we'll do against Cambridge.
"If our performance levels are good we make things difficult for the opposition, and the most pleasing thing for me is the team is doing well without a number of senior players, including Jon Shaw, not to mention [Danny] Spiller and [Garry] Richards."