Jerome Champagne outlines TP Mazembe vision
By Kennedy Gondwe & Ian Hughes
BBC Sport
Last updated on .From the section Football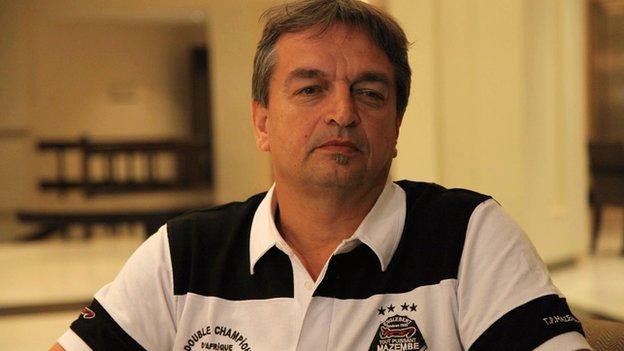 "Change your vision, abandon your prejudice and help Africa because Africa is helping itself."
That is the call to action coming from Jerome Champagne, the former director of international relations at football's world governing body Fifa, who is now working as a consultant to African team TP Mazembe.
The Frenchman believes the club from the Democratic Republic of Congo is at the forefront of change, under the leadership of owner Moise Katumbi.
In 2010, Mazembe made history by becoming the first African team to reach the Fifa Club World Cup final and Champagne feels the achievement is evidence of a bright future for the club and for the continent.
He told BBC Sport: "TP Mazembe is a flagship for Africa.
"It is a matter of rejoicing, a matter of conveying to the rest of the world that Africa is not doomed - Africa is moving with new leaders, efficient persons who are dedicated and honest and hardworking.
"What Mr Katumbi is trying to do with Mazembe is to send a message to the world: 'hey, come on, we have problems here but with good methods and good techniques we can be a success'."
Mazembe are four-time winners of the African Champions League, their most recent title coming in 2010, and are already through to the semi-finals of this year's competition. Yet the club is not well known outside of Africa.
Ex-diplomat Champagne has been brought in to help change that and ensure that success on the field is matched by increased recognition off the field.
He is confident that with the financial backing and vision of wealthy businessman Katumbi, the club from Lubumbashi could become one of the global giants of the game.
"Mr Katumbi has done an amazing job in taking the club to runners-up in the Fifa Club World Cup in 2010. And he does not want it to be a one-off. He wants to have continued success," continued Champagne.
"My duties are to help him internationally, to help with communication and political issues.
"He has a vision to make the club stronger and more sustainable. He wants the club to have agreements with other clubs in Europe and South America in order to benefit from the experience of these clubs.
"Mazembe may send some players to these clubs for some time to acquire experience and encounter different styles. Our vision is to have greater worldwide exposure.
"Of course it will not happen overnight. But for example we have added English language on the TP Mazembe website, which had previously been only in French.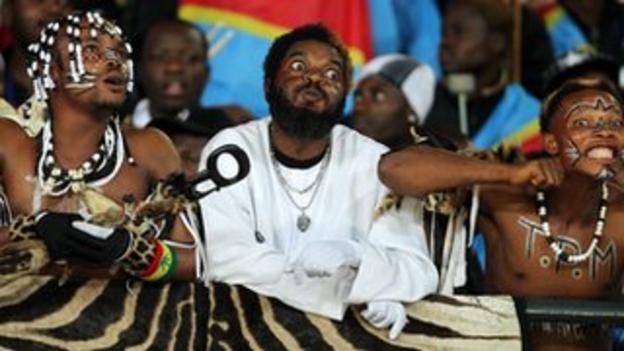 "We believe we have a lot of TP Mazembe fans around the world and we want to show them what Mazembe is all about."
While some people may feel Mazembe are successful only because of their wealthy benefactor, Champagne is eager to explain his view that it takes a whole lot more than funds to make a great club.
"Money is not enough," he insists. "What makes a difference here is Mr Katumbi not only has the money to invest but also the time to be patient.
"You have to help the kids to grow kids, instil a playing style in the team and a philosophy of the club; ensure the players behave correctly so when they travel that they represent the club their city and their province their country with dignity.
"Mr Katumbi has the vision and the patience. And time is so important in football.
"It is not easy because you can work well for a long time but you can lose because of 10 seconds of inattention or a player's lack of discipline - and all the good things in one year can be spoiled by one mistake.
"That is why football can be cruel. But that is the beauty of the game as well."
Champagne is also certain that football can bring people together, and he is keen to help ensure that no-one is excluded. In his role with Mazembe, Champagne is confident of making a difference.
"Football is universal, it is not reserved for an elite," he said."Every country has the right to develop and participate. Every continent must receive a fair chance to participate and to win.
"The Mazembe adventure is fascinating and that's why I feel good working here.
"I feel very privileged to be part of the club's vision, philosophy and to have joined Mr Katumbi in projecting not only the club but also the province, the country and the continent."