Accrington Stanley aiming high under manager Paul Cook
By Phil Cartwright
BBC Sport
Last updated on .From the section Football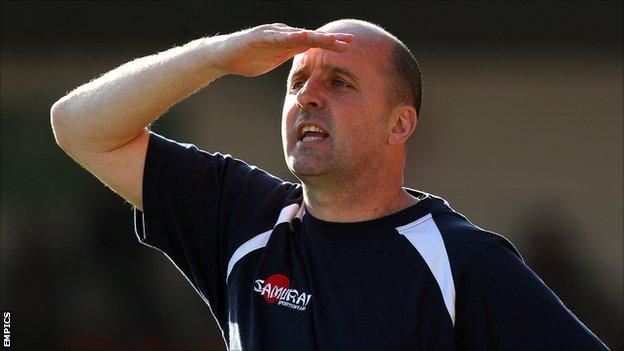 With one of the smallest budgets in League Two and attendances rarely rising above 2,000, you could be forgiven for thinking that Accrington Stanley would be happy with survival this season.
But manager Paul Cook has loftier ambitions than that.
"The target is to win the league," he told BBC Sport.
"I say it to everyone and people think you're mad. At the end of the season, when we finish in whatever position we finish in, it will be because that's where we deserve to finish.
"We only set targets of doing the best we possibly can. Our target must be to win the league.
"It's probably common knowledge that we have the smallest budget. Once you've commented on that once, that's the end of it.
"Because we have the smallest budget in the league, does that mean we should be relegated? Well, our squad don't think that.
"The main target is progression and what is progression? All clubs will judge it differently. If we can take this club forward, it will mean we are progressing and that's the aim for everyone."
Stanley, who finished 14th in League Two last season, have made a promising start to the new campaign, winning three of their opening four league matches. For the first month of the season at least, they have defied those who predicted the club's seventh year back in the Football League would end in relegation.
A former Accrington player, Cook returned to his north west roots in February after five successful years in charge of League of Ireland side Sligo Rovers.
He replaced Rochdale-bound John Coleman, the man who had led Stanley back into the Football League after a 44-year absence.
"John and [assistant] Jimmy Bell became stalwarts and legends of the club and they should be remembered in those terms," added the former Wolves, Coventry and Burnley midfielder. "But people move on and it gives other people an opportunity.
"Ireland served its purpose for me. I had a fantastic time in Sligo and I can't speak highly enough of the people or the place.
"But as a manager, you can't look back and say you've had success. It's about looking forward and getting more success. I'm at a fantastic club now."
Cook is building a primarily young squad at Accrington, containing an eclectic mix of players.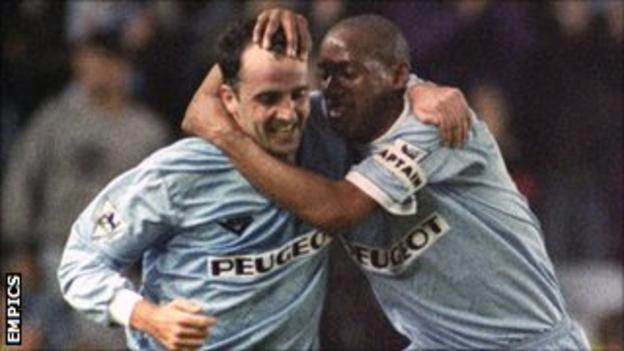 Take Rommy Boco. A midfielder who has played in three Africa Cup of Nations for Benin, he joined Accrington in 2005 at the age of 20.
He played alongside a veteran Cook as Stanley won promotion to League Two in 2006, and later scored their first Football League goals for 44 years.
But he failed to properly settle in Lancashire and, early in 2008, Cook took his former team-mate to Ireland.
In fact, Cook has now signed him on four occasions - three times for Sligo and once for Accrington, after Boco agreed a return to the Crown Ground on transfer deadline day.
"A lot of managers go back to what they know," added 45-year-old Cook. "I know Boco inside out and, in my opinion, he'd improve any team in our league.
"He's got a great story, but in football, there's not a lot of sentiment. If Boco couldn't do the job I know he can do, I wouldn't have brought him in."
The tale of another summer arrival, Bohan Dixon, is equally as intriguing.
He was plucked from an amateur league in Liverpool and is now experiencing full-time football for the first time, making his senior debut against Morecambe in the Johnstone's Paint Trophy on Tuesday.
Cook continued: "Professional football is new to him. He's been at it now for two or three months, he's a popular member of the squad and he shows a lot of signs that he's got a future in football.
"He's still got a lot to learn, but he's willing to learn and he has a lot of attributes that could see him going on to play in the league for the rest of his career."
League Two contains a wide range of playing styles and, having been a cultured midfield player himself, it is no surprise to see Cook's Accrington keeping the ball on the floor as much as possible.
But he commented: "I don't know what 'the right way' to play is.
"We all have different ideas and philosophies on the game. Mine would be a more passing game than some other managers, but at the end of the day, we all passionately want to win.
"Football is all about winning, and if you can win playing football, moving the ball quickly and developing players, I think that would suggest you're doing a good job."
And what of Accrington's chances this season? Does Cook believe his side can be challenging for promotion in May?
"While we keep setting the barometer high, people that know us know we're not saying 'we're going to win the league'. What we're saying is that we want to be the best we can be.
"Come the end of the season, when we all go and have a pint together, we'll be able to say to each other we did our best. That's the most important thing."
BBC Sport will be taking a closer look at stories from outside the Premier League before every weekend league programme in our Football League Friday features.