Wayne Rooney absence gives us a chance, says Moldova assistant
Last updated on .From the section Football153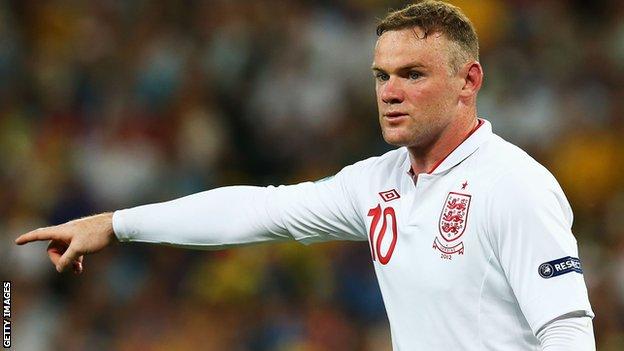 Moldova assistant manager Ion Testemitanu believes the absence of Wayne Rooney will give his side a chance against England on Friday.
"Rooney not playing is very, very big for us - we are very lucky," Testemitanu, who played for Bristol City from 1998 to 2001, told BBC Sport.
"Andy Carroll not playing is also good news. We have a chance now. Anyone can win on any day."
Moldova are 141st in the Fifa rankings - 138 places below England.
And Testemitanu, the only Moldovan to have played professional football in England, admits his side will be huge underdogs when the sides meet at the 10,400-capacity Zimbru stadium in Chisinau on Friday.
"We are realistic and understand who England are and will be careful from the first minute to the 90th," he said.
"England are always very good - there are no secrets. I saw how they played at Euro 2012 and was impressed.
"We are a young team and a young country, with a population of only four million."
In the absence of Rooney, Testemitanu thinks captain Steven Gerrard will be the key player for England.
"I think he is the best player in the team," he said. "Gerrard is the captain and leader and makes key passes and shots. In every game he shows that he is still a top player."
The 38-year-old has fond memories of his time in England and says he has been "dreaming of this game for a long, long time".
He played at Bristol City by then manager Tony Pulis, who had been impressed with his performances in the 1998 World Cup qualifiers against England.
The pair are still in contact, and Testemitanu recently spent time at Stoke City as part of his Uefa Pro Licence course.
"Tony helped me a lot when I arrived in Bristol," he said. "It was hard to adapt at first. I came from an ex-USSR country which was very strict. I was arriving in a capitalist country where I could do whatever I wanted and I did not know what to do.
"I didn't know the language, how to dress, how to behave, nothing. None of the players had even heard of Moldova. One of them said Moldova was the only white country in Africa and everyone believed it.
"But I became good friends with Scott Murray, Brian Tinnion and the chief scout Tony Fawthrop and gradually I started to fit in."
Testemitanu also had a starring role in the book - recently made into a film - "Playing the Moldovans at Tennis", in which the English comedian Tony Hawks tracked down each member of the 1997 Moldovan football team and played them at tennis.
Testemitanu's daughter, Ana, took up tennis following the match and is now the number-one ranked junior player in Moldova.