Off The Bawl - 1 September
Last updated on .From the section Football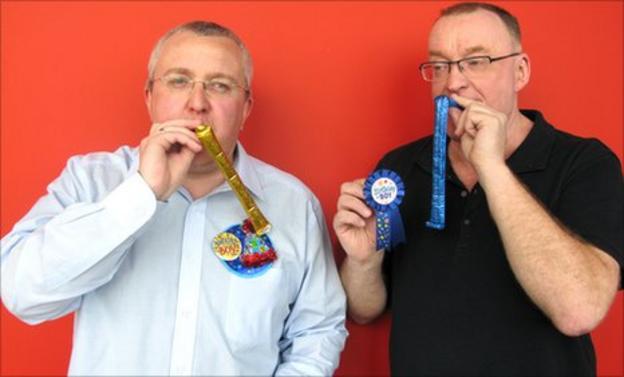 Greeeeeetings!!! On Saturday's show, we were joined in the studio by stand-in presenter Rob McLean and former top ref Stuart Dougal and, according to one listener: "The sexual tension between Stuart and Rob is unbearable." Ooh-er!
If you think that's weird, what about the email from Grant on the A92 who said: "Can you ask your other guest Gary Bollan about being invited to manage the Namibian national side?"
Sounds nuts but totally true, as Gary confirmed.
Elswhere in a packed show, we got the thoughts from the Jambos as David Templeton headed for Ibrox,Stuart Dougal answered your questions on the wonderful world of refereeing and, as the famous illuminations were switched on for the 100th time, we asked what Blackpool means to you.
We also wondered if any listeners shared their name with someone famous, our Team of the Week was The Fast Food XI and we played out with a wee song dedicated to a true Scottish football legend.
Here's another selection of the most petty and ill-informed texts and emails on radio...
DAVID COOPER TEMPLETON
Yvonne the Jambo in Ullapool said: "I'm really annoyed Rangers are allowed to buy big players whilst in the Third Division. It seems we're getting punished for paying tax."
Paul in West Linton said: "The irony meter has shot off the scale! We have to sell Templeton to a team that didn't pay their tax bill. Why? To pay a tax bill! However, I actually think it's not a terrible fee considering the length of his contract at Tynecastle."
Ray said: "It's a downright disgrace that Rangers are allowed to sign any player when they owe fortunes to loads of businessmen and tradesmen. They have no morals. If it's New Rangers - fine. But if it's Old Rangers (as everyone at Ibrox insists) surely they are duty-bound to pay up?"
THE MEN IN BLACK
Anon said: "Why can't the referees give an expanation for their decisions on the park like they do in rugby?"
(Stuart Dougal said: "They tried it in England, but there was too much swearing.")
Jim in Falkirk said: "Was foul and abusive language and dissent around in the days of Jack Mowatt and Tiny Wharton? And how would they have dealt with it?"
(Stuart Dougal replied: "No, it was nowhere near as bad in the old days. Perhaps the answer is for today's refs to wear blazers!")
Bobby from Bearsden said: "The basketball players at the Paralympics play their hearts out. They crash and get hurt, but they are picked up and repaired. Footballers on the other hand dive constantly and act as if they've been brutally attacked. A bunch of cheating wimps. What chance do our poor refs have?"
Anon said: "The dearly departed Whistleblower website was great. The infamous Mike McCurry performance at Ibrox when he disallowed two Dundee Utd goals for no apparent reason was like reading an extract from The Flat Earth Society."
WHAT DOES BLACKPOOL MEAN TO YOU?
Christopher from Vienna said: "I'm a Celtic fan in Austria and, to me, Blackpool means my mum shouting "This place is like Blackpool Illuminations!" any time me or my sisters left all the lights on in the house."
Gary in Ayrshire said: "I remember one night in Blackpool my cousin Graeme McLeod thought the name of the nightclub he was in was called Main Entrance as that's what it said above the door."
TEAM OF THE WEEK
The Fast Food XI
(aka Borussia Munching-Big-Macs)
Referee: Mike McFlurry
1/ Cammy Taco Bell
2/ Colonel Zanders Diamond
3/ Ashley Cholesterol
4/ Hamish French Fries
5/ Andrew Driver-Thru
6/ Jim McIntyre (he's got a half-pounder)
7/ Peter Burger Van Vossen
8/ Bobby Pitta
9/ Craig "Dia" Beatties
10/ Diego Maradonner Kebab
11/ FerNANDOS Torres
THE NAME GAME
As the transfer window closed, Off The Ball was stunned to hear that a guy called Gordon Ramsay had moved from Forfar to Arbroath. So it's official - Gordon Ramsay really HAS played football in Scotland!
But do any of our readers share their name with someone famous?
Jamie McAvoy from Ayr said: "Close, but no cigar."
Ricky Martin from Kirriemuir said: "Yes, unfortunately I share my name with the Latino singer. What a brasser."
Meanwhile, another listener said: "I was named after Rodney from Only Fools And Horses." That was from Dave in Aberdeen. Brilliant!
AND FINALLY...
The music that played us out?
Well, as a wee tribute to Dundee Utd's legendary goalkeeper Hamish McAlpine (a former Off The Ball guest who is now recovering after a heart attack) we sent our best wishes by ending the show with Michael Marra's haunting song "Hamish"...
PS. On the Off The Ball Sunday Supplement, we discussed the newspaper story that Navy seals had discovered Osama Bin Laden used Just For Men to dye his beard black.
So, had any of our listeners indulged in a wee bit of male vanity?
Andy in Kirriemuir said: "To conceal my grey hair and wrinkles, I used a certain product. It was a burkha."
Anon said: "When I started seeing a younger woman, I had my lips fattened... by the wife!"
Jim in Netherlee said: "Apparently, Airdrie have released their own brand of shampoo for the supporters. It's called Go and Wash."
(You may recall Jim Duffy brought out his own shampoo a few years ago. It was called Shoulders...)
To join in the fun on this Saturday's show, call 0500 929500, text 80295 or email offtheball@bbc.co.uk
Listen to the most recent Off the Ball programmes.
Download the latest Off the Ball podcast.