Oxford United defender Michael Duberry making slow progress
Last updated on .From the section Football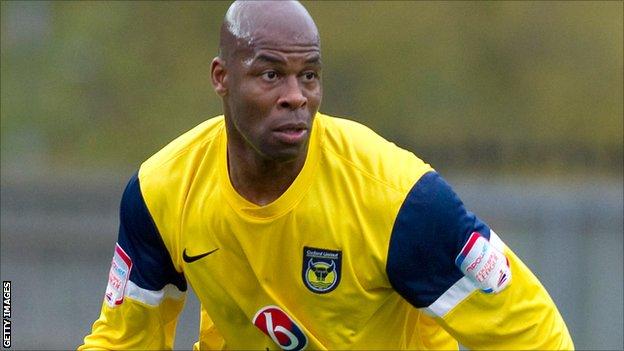 Oxford United defender Michael Duberry says he is making slow progress in his return from a serious neck injury but is determined to win the battle.
And following successful surgery Duberry is on the way back to fitness.
"I'm not the best spectator, I want to be playing and it is frustrating but it's a slow process," Duberry told BBC Radio Oxford.
Before the operation, the former Chelsea defender had lost the feeling in three fingers on his left hand as well as all the strength in his left tricep and bicep.
So he says just getting the strength back in those areas is the first priority before he can even think about playing again.
"I'm setting myself little targets," he said.
"The target I'm on at the moment, is this week starting to strengthen the neck and start working it and that is going well so far.
"And then once I get a bit more strength I can be more active. The surgeon said around about the three-month mark, which is December, I can start getting into contact and heading balls.
"Then I will see where I am. But that's too big a target at the moment. I just need to break it down into little stages."
Duberry admits he will not return until the new year and says the battle to keep his weight down is another challenge he faces.
"It's a long time on the sidelines, especially when you're older and the belly starts to swell when you're not active," he added.
"So I've got to be a little bit disciplined in my eating habits so I don't come back like a black Razor Ruddock."
Meanwhile, Duberry says the club and players have not been distracted by the speculation linking manager Chris Wilder with the vacant managerial position at Coventry.
"It hasn't distracted the team," he said.
"It's a rumour and it doesn't get mentioned too many times, especially when the gaffer is in the room.
"We've all been at clubs where there is talk of the manager going. It happens. It is not a distraction around the place or for the players."