Colchester United needs more leaders - Clinton Morrison
Last updated on .From the section Football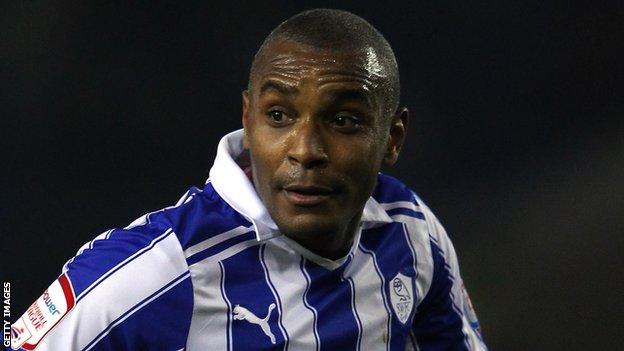 Colchester United striker Clinton Morrison believes the team must "grow up" if they are to make an impact in League One this season.
After starting the new campaign with three draws, they lost 4-0 at Tranmere last weekend and lie 19th in the table.
He told BBC Essex: "If we have an off day, fair enough, but not 4-0, not the way we collapsed in the second half.
"Everyone has to grow up, we need leaders out there, not just myself or Kem (Izzet) the captain."
The 33-year-old former Republic of Ireland international joined Colchester on a free transfer over the summer, having been involved in moves worth more than £6m earlier in his career.
He opened his account for the club in a creditable 1-1 draw with Sheffield United last month, but was dismayed by their performance at Tranmere.
"We conceded goals at the wrong times, like just after half-time, but we can't just buckle and go under.
"We shouldn't be losing 4-0 to Tranmere, no disrespect (to them). I know they've had a good start to the season but that means nothing to me because I wouldn't swap one of their players for any of our players," he said.
Colchester will try again for their first win of the season at Brentford this weekend, a club Morrison knows well from a loan spell last season.
"It plays on the back of your mind, you want to get the three points and start climbing up the table because you don't want to be at the wrong end of it.
"It's still early, it's only been four games, but you want that first win because it gives everyone a lift," he added.