Bournemouth boss Paul Groves expects loan departures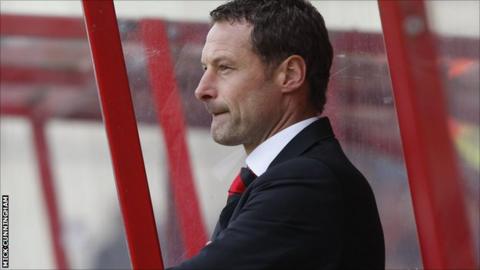 Bournemouth manager Paul Groves says he is expecting players to leave the Goldsands Stadium now that the loan window is open.
Groves also hinted the club could also look to bring a couple of players in but added he would prefer to work with the existing members of his squad.
"I think there is a possibility that players might go out on loan," Groves told BBC Radio Solent.
"We recognise there are players who have not had much first-team football."
Groves, whose side travel to Yeovil on Saturday, added: "Every player should want to play and we recognise that.
"So if other clubs want to come in and take our players on loan then the right ones we'll speak to and we'll ask the player if it's something they want to do.
"But first and foremost we have to make sure we look after ourselves and our own squad in terms of competition for places."
The Cherries have been linked with a move for Brett Pitman, but Groves would not be drawn on whether the former Bournemouth striker was a target.
"We've got good competition for forward places already but I'm sure people will continue to link us," he said.
"I'd like to get our own strikers fit. If you can add Frank (Demouge) and add Charlie (Sheringham) then they will add something to the group.
"If you can get them fit and get them playing and if we can get our own players that we have brought in fit and can get everyone understanding what we want to do then we feel we will be strong."