Peterborough's Tommy Rowe bides time over injury comeback
Last updated on .From the section Football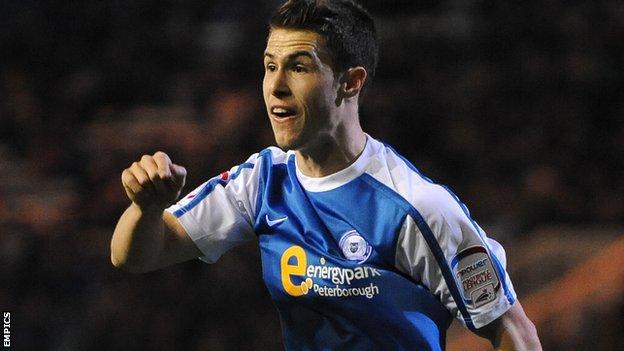 Peterborough United defender Tommy Rowe is having to be patient about a return to action after fracturing his left collarbone in a pre-season friendly.
The club initially expected last season's Player of the Year, 23, to be out until October.
He is to have another X-ray but meeting that target may be touch and go.
"If it's good news that it's healed well, I might be able to start training in a couple of weeks, maybe three," he told BBC Radio Cambridgeshire.
"After that, we'd see how it goes in non-contact football."
Rowe suffered the injury in a 6-0 run-out against St Neots in July and has been a frustrated observer as the team have struggled at the start of the new Championship season, losing all four matches so far, with South African teenager Kgosi Nthle deputising in his left-back position.
"I still have quite a large input around the dressing room, I'm always talking to the players and (seeing) if there's any advice I can give to the young lads like Kgosi.
"You feel like you want to do more but it's part and parcel of being injured, you've just got to cope with it," he said.
"He's a good lad, Kgosi, we speak quite regularly.
"Obviously the experience I've got from playing last year, (about) wingers in particular, I can pass on to him during the games.
"He takes it on board, he listens and he's done really well, he's surprised a lot of people.
"I knew he could do it, I've seen him a lot in training - I'm happy he's got his chance and he's taken it."