Wales v Belgium: Poor attendance would 'disgust' Southall
Last updated on .From the section Football55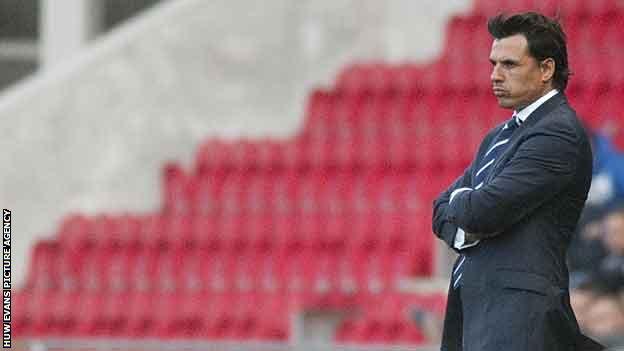 Wales football legend Neville Southall would be "disgusted" with the Football Association of Wales and fans if they do not face Belgium in front of a capacity crowd on Friday.
"I'd be disgusted if the stadium isn't full," said Southall.
FAW boss Jonathan Ford says "only but a few" tickets remain unsold.
The governing body's chief executive said: "There's only but a few left so yes, we're certainly saying please get your ticket requests in early.
"Obviously, we've got a number coming back from Belgium - I'm not sure whether they managed to fulfil all of their allocation, but normally we have a few available."
An FAW spokesman added: "We've actively been all over Wales with weekly roadshows, to all Cardiff primary schools, and we had a trailer outside the Cardiff v Wolves game last week handing out flyers.
"A lot of marketing comes with winning games. Nothing would market the team better than beating Belgium."
However, Southall believes the FAW could also promote the sport better by marketing their star players via the media.
"I'd be disgusted with the Welsh FA and I'd be disgusted with the people that are not coming [if the stadium isn't full]," he said.
Wales attracted 6,253 fans for their 2-0 friendly defeat by Boznia-Hercegovina at Parc y Scarlets in August.
In February 2011, 23,193 fans were at Cardiff City Stadium to witness the Gary Speed Memorial Match in which they lost 1-0 to Costa Rica.
The previous November another friendly attracted 12,637 for a 4-1 win over Norway.
And a similar number witnessed their 2-0 Euro 2012 qualifier win over Switzerland in October 2011.
That was preceded by more than 17,000 paying to watch them beat Montenegro 2-1 in the same competition. By that stage Wales were unable to make the finals.
Record Wales cap Southall - he made 93 appearances - says the Football Association should make their players more available to the media than has been the case.
But he also says fans have no excuse not to pay to watch the national team with adult tickets priced at £20 and concessions for senior citizens and under-16s at £5.
Southall says the fact that Premier League side Swansea and Championship team Cardiff City are well-supported should lead to Wales playing in front of bigger crowrds.
He added: "You don't realise the effect that people can have on the team and the lack of people can have on the team.
"I've played at [the old National Stadium] Cardiff Arms Park against San Marino and we could hear them ordering their cups of tea and hamburgers at half-time.
"There's nothing more depressing than that.
"So you've got a Belgian team who are brilliant against some of our world-class players - if that's not a game to excite you, what do you actually want?
"If you're staying away from the game, then you're actually killing the players, in a way.
"You need to be there tomorrow, get in that ground and give them support because they won't qualify with no support.
"It would be nice to walk out to a full house, they all sing the national anthem and you'll see the players perform.
"If you've got world-class players, how can you not go along for a tenner and watch Gareth Bale in action?
"If you're a young kid, why wouldn't you want to see Gareth Bale and Aaron Ramsey, Joe Allen, Boaz Myhill, Ashley Williams?"
Wales' most-capped player added: "They [FAW] should be coming to you [the media] every day with a story about how good the Wales players are.
"They should give you access all the time - come and see Ramsey, he's brilliant, come and see Joe Allen, he's brilliant, come and see Gareth Bale - he's brilliant.
"You've got three world-class players there, at least.
"Craig Bellamy, if he comes back and he's fit, is another one.
"The goalie, Wayne Hennessey, who could be one of the best in the world - there's four world-class players, at least, and we've got the other lads who are just emerging as well.
"Ashley Williams has been fantastic for Swansea.
"I do believe it comes from the top, all the positivity should come from the top and really push it.
"If we've sold 15,000 tickets then we should have another 10,000 schoolkids in there because I know the players want the stadium full."