QPR hope Samba Diakite "will return to training very soon"
Last updated on .From the section Football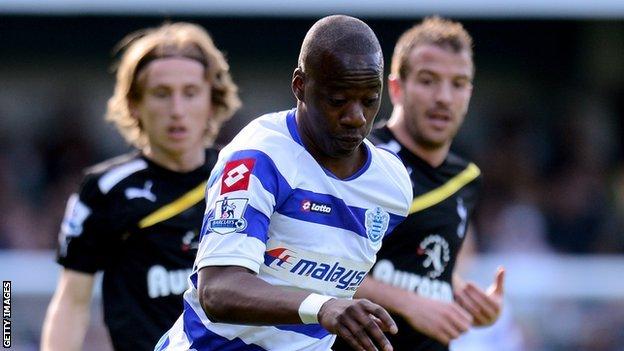 QPR say they are hopeful Samba Diakite "will return to training very soon" after he was given a leave of absence for personal reasons in France.
Speaking to French radio station RMC, the 23-year-old dismissed reports he was suffering from depression.
Diakite met medical staff when he was briefly back with QPR on Friday, and has now returned to his native France.
"Frankly, I do not understand why some people start rumours like that," Diakite said.
"I was a bit tired in the last few days and my club allowed me to spend three days in Paris. But I am not depressed.
"My club are my employers and I was in contact with them every day.
"All of a sudden I wake up this morning, open the newspapers and learn that someone has said that I am depressed. This is ridiculous and disappointing.
"I am currently in London and I have been to training, so this is amazing. I want to assure my friends and fans of QPR that I will be at training on Monday with the rest of the group and all is well."
The battling Mali international excelled on loan after he joined from Nancy in January, and signed a permanent four-year contract in June.
He started the first two league games of this season - the 5-0 defeat by Swansea and the 1-1 draw with Norwich - but did not feature in the 3-0 win over Walsall in the League Cup.