Rangers EBT probe commission to meet next week
Last updated on .From the section Football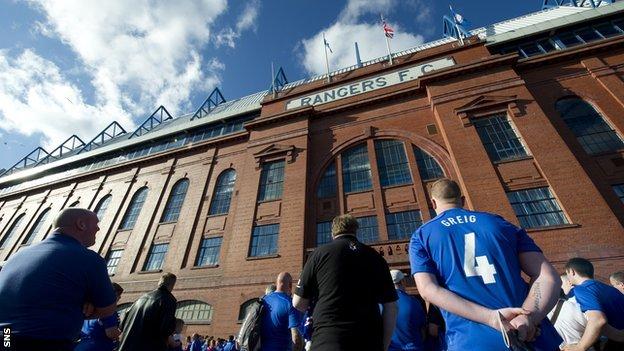 A timescale for the investigation into alleged dual contracts at Rangers should become clearer next week.
There will be a procedural hearing on Tuesday and Wednesday involving members of the independent commission and lawyers from Rangers.
The independent commission was set up by the Premier League.
It will investigate the allegations that previous players at the Glasgow club were paid with so-called side contracts.
"The Scottish Premier League today announced that the independent commission to inquire into alleged EBT payments and arrangements made by Rangers in relation to players during the period from 2000 until 2011 will sit on Tuesday 11 and Wednesday 12 September," said an SPL statement.
"The hearing will be chaired by Lord Nimmo Smith and will consider submissions from parties on various procedural matters.
"It will not be a hearing of the merits of the case."
The three-man group, which also features Charles Flint QC and Nicholas Stewart QC, will eventually decide whether Rangers broke SPL rules regarding payments made through their controversial Employee Benefit Trust scheme.
Such payments are also the subject of a tax tribunal, which is yet to be decided.
The tax tribunal will have no impact on the current Ibrox regime, whose side now plays in Division Three and which bought the assets and business of the soon-to-be-liquidated club.
However, the SPL probe could lead to Rangers being stripped of league titles, although there are more than a dozen other potential sanctions.