Subtle changes can make Scots a threat

By Alasdair Lamont
BBC Scotland
Last updated on .From the section Football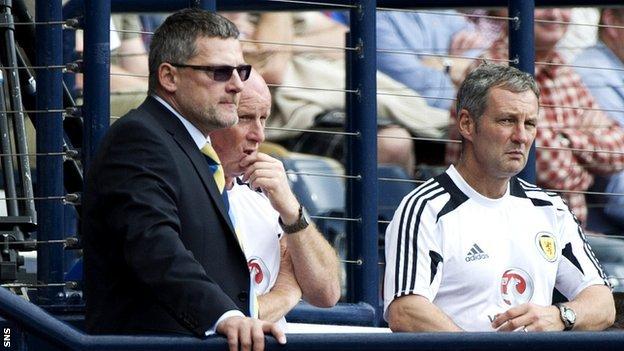 For all the bold pre-match talk of a much-improved squad, better prepared to end the long wait to return to a major championship, the Scotland performance against Serbia bore many of the hallmarks of those sides who have failed to qualify over the last 14 years.
Perhaps not everyone had bought in to the idea that this was a squad that was going places, but before Saturday's game at Hampden there was a genuine positivity that Scotland could start the campaign with a victory.
Indeed, as the match began, it looked as though there might be goals at both ends, as both teams attacked at pace.
But that soon dissipated, to be replaced by more pedestrian football, which rendered the atmosphere inside the ground almost non-existent at times.
In a seemingly co-ordinated public relations attempt to spin the display in a positive light, the manager Craig Levein and his players spoke in the aftermath of having created plenty of chances and being unlucky at not having taken any.
They are right to assert that of the five genuine goalscoring chances created, it would be reasonable to expect at least one of them to have been taken.
But the two best saves of the day were produced by Allan McGregor, otherwise the result might have been even less palatable.
Much of the criticism aimed at Levein centres round the formation he uses, which is seen to be overly cautious.
The most obvious example of that is a clamour to play two strikers rather than one, particularly in home games.
That would mean dispensing with the need for a defensive midfielder who sits in front of the back four, as Gary Caldwell did to pretty good effect on Saturday.
Now, that may have borne fruit against Serbia, but it may also have left Scotland exposed to the swift counter-attacks of their opponents.
The 4-1-4-1 Levein likes to employ is not necessarily a defensive one. On the contrary, it has the potential to be a very attacking one, with the five ahead of Caldwell given licence to get forward as much as possible.
To take the starkest example of how that tactic can be shaped to the most positive effect, Spain do not sacrifice Xabi Alonso or Sergio Busquets just because they are playing at home or are expected to win a match.
The four midfielders on Saturday - Steven Naismith, Charlie Adam, James Morrison and Robert Snodgrass - should have been capable of providing greater attacking impetus, but unfortunately probably only Snodgrass played near his capability and even then only in flashes.
Scotland lacked a creative spark - an oft-used phrase in recent years.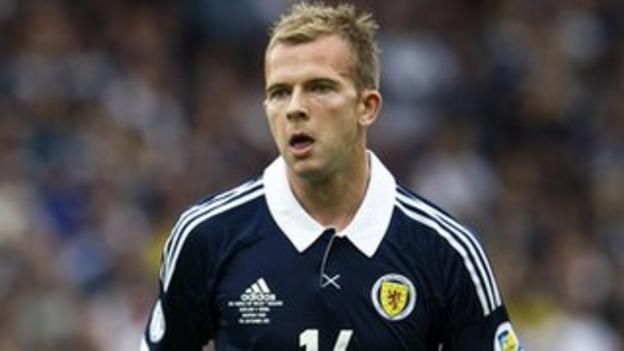 And then there is the Kenny Miller issue.
No-one doubted he would be the man employed by Levein in the lone striker role. You could reasonably argue he had earned the right to do so with his selfless and sometimes excellent performances there in recent times.
It is fatuous to debate whether Jordan Rhodes, Jamie Mackie or even Steven Fletcher would have taken any of the chances presented to Miller on Saturday.
On another day, Miller himself would have taken at least one of them, but like too many of Scotland's attacking players, Saturday was not one of the striker's best.
The Hampden crowd pleaded for Rhodes to be introduced, but the 10 minutes afforded to him and Mackie were insufficient, though it was Mackie who made more of an impression and who will surely start against Macedonia.
Whether that will be as a striker or in a wide midfield role remains to be seen, but he, James Forrest and perhaps Shaun Maloney deserve a chance to try to succeed where the others failed on Saturday.
The defence performed pretty well and is likely to be unchanged for Tuesday's match, but it is not the system that requires surgery for that game to yield three points for the Scots.
Instead, it is how that system is operated, and to what extent Scotland are able to impose it on Macedonia, so that the striker is not isolated but rather supported by the four behind him.
If that can happen, and this time some of the chances can be taken, the positivity can return.