Scots legends slate Scotland's performance against Serbia
Last updated on .From the section Football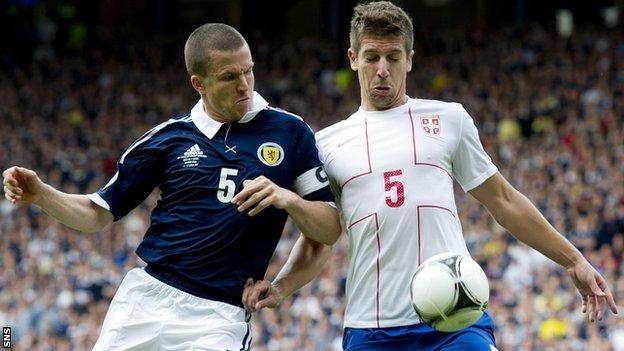 Former internationals Willie Miller and Stuart McCall have criticised Scotland's performance after their 0-0 draw with Serbia at Hampden Park.
The Scots failed to score in the opening fixture of a qualifying campaign for the third time in a row.
And 65-times capped Miller was clear that the players could have done more to win the match.
"I don't think the players did enough, to be honest with you. We didn't put them under enough pressure," he said.
"One of the most disappointing factors for me was the tempo of the game, I didn't think that there were any leaders out there that dictated the tempo of the game.
"I think if, after 90 minutes, you've come off and they've really put in a shift and they've got up against Serbia and put them under pressure then you can accept that, but I don't feel we did that."
Former Aberdeen manager Miller also asserted that the visitors had been allowed control of possession.
"In my opinion the Serbs totally dominated the game in terms of possession," said Miller. "Our passing in the first half was very slack and we kept giving them easy possession back.
"It's that optimistic opening game and you really want to come out and dominate, and we didn't dominate - they dominated us.
"To get a draw is an okay result, but the opportunity was there for Scotland to take this game if they could have got the tempo up.
"I'd just like to see a bit more spirit about the team," he added.
Motherwell manager Stuart McCall was also critical of how the Scots used the ball when they did get hold of it.
"We weren't good enough in possession," he said.
"You can talk about tactics and whatever, but the bottom line is in possession of the ball we were poorer.
"In possession they were better, they looked after it, they were better than us today when they passed the ball and moved the ball.
"We were sloppy right from really early on in the game, we gave passes away in our own half. They squeezed us high, they took the ball off us - thankfully they didn't have a cutting edge."
However, one positive for 40-times capped McCall was the performance of debutant full-back, Paul Dixon.
"I think he can be proud of his debut," said McCall. "I thought he was one of our better players."