Serbia defender Aleksandar Kolarov unimpressed by 'long-ball' Scotland
Last updated on .From the section Football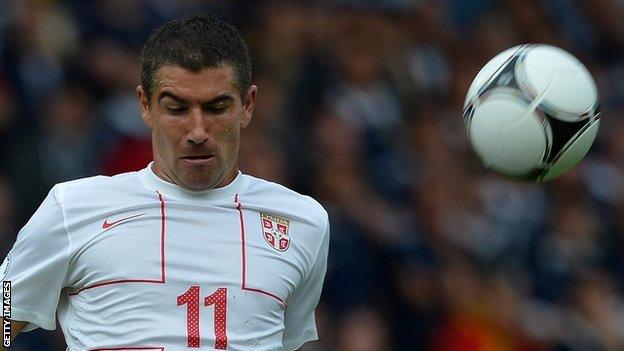 Serbian defender Aleksandar Kolarov has claimed his team are better than Scotland after the two sides drew at Hampden Park.
The goalless opening World Cup qualifier left many Scots fans unhappy with the performance of the national side.
And Manchester City full-back Kolarov was unimpressed by a Scotland side he described as a 'long-ball' team.
"They played at home but I think we are a better team than them," he said.
Kolarov also thought the match against Scotland was ideal preparation for the Serbs hosting Wales in their next qualifier on Tuesday.
"I think all the squads from the island play in the same way, with the long ball.
"We had this game and the last friendly game against Ireland, so we are used to playing against a team like this."
The 26-year-old also said that he was unsurprised at the way Scotland played.
"We know how they play, with long balls. They are good on the second balls and from set-pieces," he said.
"We made some mistakes and they could have scored but 0-0 in the end was okay for both sides."
Serbian captain Branislav Ivanovic agreed that the draw was a fair result for both sides.
"I think Scotland can beat us and also we can beat Scotland so a draw is okay for both teams for a start," said the Chelsea defender.
"They had some opportunities from our mistakes. We had two or three opportunities and the draw was correct.
"Both teams had good chances to win the game but I thought it was a fair result and we can be happy with a draw in one of the hardest away games for us."
Meanwhile, Scotland striker Jordan Rhodes has revealed his excitement at making his competitive international debut has compensated for the disappointment of failing to beat Serbia.
New Blackburn signing Rhodes came on as a substitute with 10 minutes to go as Scotland shifted to a 4-4-2 formation.
"It was fantastic just to go out there," said Rhodes.
"It was a dream come true to go out there and step out in front of those fans at a World Cup campaign. It was very exciting and it doesn't get much more exciting than that."